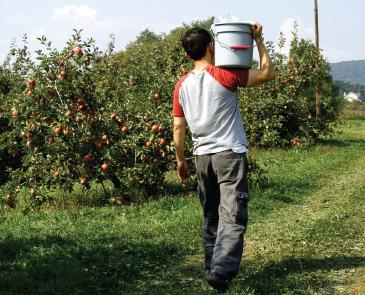 According to the most recent farm labor report form the National Agricultural Statistics Service, U.S. farms and ranches hired a total of 703,000 workers as of April 2016, up 2% from a year ago. The average pay from these jobs is $12.75 per hour – up 4% from a year ago.
Wage rates for farm workers varies a bit by region, however. Farm workers in the Delta region, for example, made $10.70 per hour on average, while Hawaii farm workers made $14.85 per hour on average. In the "Corn Belt 1" region (Illinois, Indiana and Ohio), workers made $13.23 per hour, and in the "Corn Belt II" region (Missouri and Iowa), workers made $13.17 per hour.
Wage rates increased the most in Florida, Iowa, Missouri, Arizona and New Mexico.

The number of workers and hours worked per week also vary by region. The U.S. average work week for a farm worker is 40.4 hours per week. Farm workers in Arizona and New Mexico have the longest average work week, with 47.4 hours per week. Workers in the Southern Plains, meantime, clocked in an average of 34.9 hours per week.
Of the nation's 703,000 farm workers, 558,000 are expected to continue employment for more than 150 days. The remaining 145,000 are more temporary positions, lasting 149 days or fewer. Larger farms employed the majority of these workers – farms and ranches with $1 million or more gross sales employed 60% of U.S. farm workers, with 30% of these operations employing 51 or more workers.
NASS defines agricultural work as "work done on a farm or ranch in connection with the production of agricultural products, including nursery and greenhouse products and animal specialties such as fur farms or apiaries. Also included is work done off the farm to handle farm related business, such as trips to buy feed or deliver products to local market."
For more state-by-state statistics from NASS, visit www.nass.usda.gov/Statistics_by_State/.