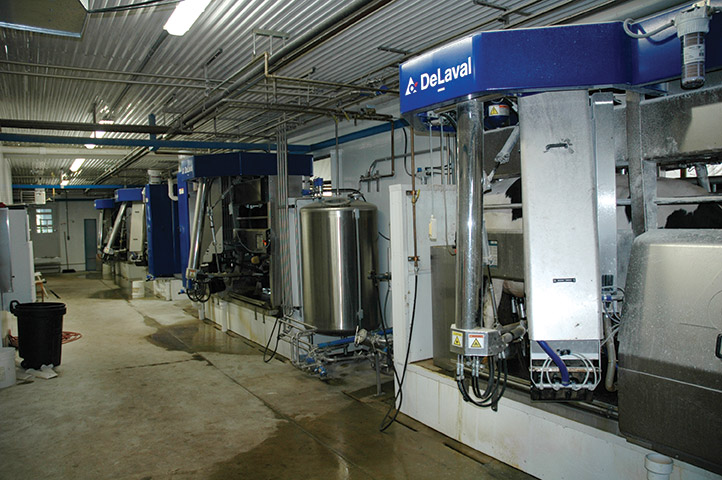 Increased production drives profitability
It's the $180,000 question. Will that type of investment for a robotic milker actually pay for itself?

The answer: It's complicated, and it depends. The three biggest variables are labor savings, increases in milk production and milk prices.

The complex interrelationship of these factors prompted Jim Salfer and Bill Lazarus, both with the Univer­sity of Minnesota, to develop a spreadsheet to help answer the question. Salfer in an Extension dairy educator; Lazarus is an Extension economist.

The Minnesota spreadsheet is based on an earlier version developed by Iowa State. The Minnesota version is a partial budget that looks at increased returns and expen­ses. It is best used comparing a switch in milking systems to a robotic milker, and it is not designed to look at expan­sion scenarios.
---
Bonus Content
University of Minnesota robotic milker spreadsheet
---
Labor savings and the elimination of labor issues are often touted as the driving forces toward robotics. But both can sometimes be difficult to quantify.

That's particularly true for small and mid-sized farms that often provide family labor for some or all of the milking. Unless that family labor is redirected into other areas that improve nutrition, reproduction or herd health, savings won't contribute to cash flow or profitability, says Salfer.

Managing less labor—recruit­ing, training, supervising and so forth—is also touted as a big advantage of robotic milkers. Here again, if that time and effort isn't redirected into other profit centers, it's difficult to quantify the monetary benefits, he says.

Increased milk production is another often-cited benefit of robotic milkers, especially for herds milked 2X. The belief is that robotically milked cows will visit the robot close to three or more times per day, thus getting the benefit of increased milking frequency.

Salfer and colleagues are collecting data from some 50 farms in the Midwest with robotic milkers. Their exper­ience is that cows on these farms visit the robots from 2.6 to 3.0 times per day, averaging 2.8X. The average increase in production attri­butable to this increased frequency is just 3 to 6 lb., and not nearly the 7 to 10 lb. one might expect with 3X.

"Robots in and of themselves won't get you that much more milk—maybe 3 to 6 lb. per cow per day," says Salfer. "As one producer told me, 'Management makes milk; robots only harvest it.'"

Some producers do see production jump 8 and even 12 lb. per cow per day. But that extra milk likely comes from better management or higher quality feed, made possible by freed-up labor.

And the flip side is also true. "If you get no milk increase, it gets pretty ugly," Salfer says.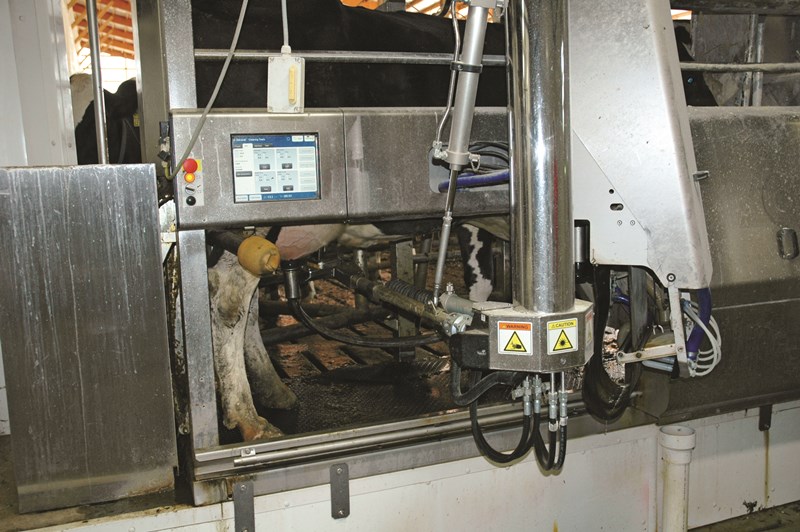 Because of high capital costs, owners have to focus on milk per robot and maximizing milking time.
---
From his survey work, herds were averaging about 75 lb. of milk per cow, with a range of 57 lb. to 100 lb. The average might seem low, but all cows milked through the robot were included in that number. That meant fresh cows, sick cows and lame cows—all were averaged.

Milk price is another driver. A $17.50-per-cwt average price might be breakeven in some herds with high milk production. A $20 price could typically push robots into profitability, but a $15 average would bleed budgets red.

Dairies on this cusp with loan payments due monthly could have to pay far more attention to forward pricing and risk management.

Switching to robots also requires a change in mindset for producers, Salfer says. Owners have to focus on milk collected per robot and maximizing milking time. Any time that a robot is not harvesting milk, whether it's related to cow flow or other issues, is time wasted and dollars lost.

Cow management becomes even more critical because owners must now manage cows through reams of data generated by the robotic system. The keys are knowing what that data means, how to use it and then acting on it, he says. 
Spreadsheet What-Ifs
Using the spreadsheet from the Uni­ver­sity of Minnesota, we keyed in two baseline production levels and various milk increases above that. We also looked at how milk price affects annual net financial impacts.

We assumed the following:
288 cows, including milking and dry.
Four robots at $180,000 each.
Milking labor savings of 10 hours per day, valued at $15 per hour, including benefits.
The results below do not include facil­ity remodeling costs that might be needed to accommodate cow flow. If substantial facility changes are required, this obviously will increase costs and the breakeven analysis.

Table 1 shows the spreadsheet results based on 75 lb. of milk per cow at the start, as well as the financial impact if milk increases 4, 6 or 8 lb. per cow. Three levels of milk prices are also analyzed.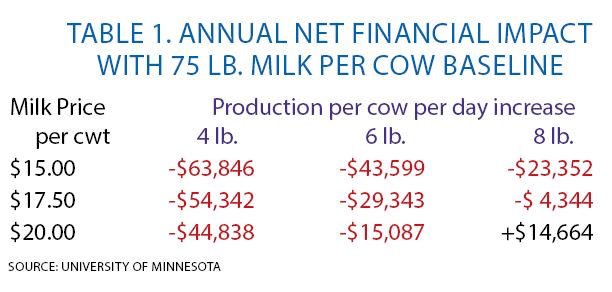 Table 2 shows the spreadsheet results based on 80 lb. of milk per cow at the start, plus the financial impact if milk increases 4, 8 or 12 lb. per cow.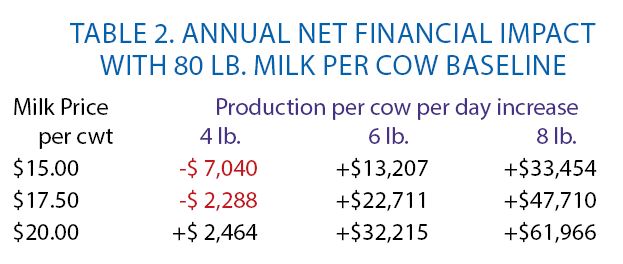 Under these scenarios, both milk volume and value are huge drivers of profit and loss. The 75-lb. production baseline struggles to show a positive number until milk production jumps 8 lb. per cow per day and milk price averages $20 per cwt.

In contrast, the 80-lb.-per-cow-per-day baseline shows profitability with just a 4-lb.-per-cow-per-day increase at $20 per cwt milk price or 8-lb.-per-cow-per-day increase at just a $15 per cwt milk price.