The California native assumes the role of Farm Service Agency Administrator
As a veteran Farm Service Agency (FSA) employee, Val Dolcini knows he is taking on the top job during a period of tremendous changes. With USDA rolling out new and revised programs for farmers, he'll face many key decisions during his transition process.

Dolcini was named FSA Administrator at the end of August. In this role, he will oversee farm commodity loan and purchase programs, emergency lending programs in disaster-stricken areas and voluntary conservation programs. He will also manage FSA's 2,500 offices and 15,000 employees. He replaces Juan Garcia, who announced his retirement in August.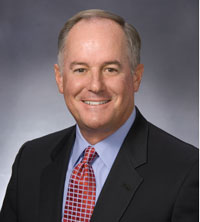 In August, Val Dolcini was appointed as the Farm Service Agency Administrator (FSA). A 
California native, he previously worked as the state's FSA executive director for two terms.
At the top of Dolcini's to-do list is implementing the new farm bill. "This is an important time for the farm bill," he says. "Clearly implementation will be job No. 1." 

The bill includes several new programs, such as Agricultural Risk Coverage (ARC), Price Loss Coverage (PLC) and the Dairy Margin Protection program. 
Along with farm bill implementation, one of his most pressing issues is bringing FSA employees up to speed on ARC and PLC. "This is brand new to almost everyone on both sides of the counter," he says.

The agency will conduct training sessions for employees and release web-based tools developed by college and universities to help producers and landowners make informed decisions about their coverage options.

Enrollment deadlines have not been announced because there's a chance the programs might change slightly during the implementation process. Dolcini says producers will have plenty of time to make their choices once the final details are released.

Dolcini's career includes public service and  private sector positions. He arrives in Washington, D.C., by way of  California, where he served as the state's FSA executive director. He was appointed to that position by President Barack Obama in 2009. He also served in the same position under President Bill Clinton. While in that role, Dolcini oversaw the agency's efforts in a state with more than 80,000 diverse farms and ranches. 

In California, dairy producers generated $6.9 billion in milk production in 2012. The state is also known for fruits, vegetables and other crops. Overall, California produces more than 350 different commodities, resulting in nearly $45 billion in agricultural product revenue.

"Our agriculture is quite different from a lot of states," Dolcini says. California's agricultural diversity, as well as the diversity of its workforce, has given him a good taste of the variety of farmers and issues that will be associated with his new job.

Dolcini is no stranger to politics, either. In addition to briefly serving as interim FSA Administrator in 2011, he has worked at the state level in California for both the governor and lieutenant governor and at the national level for two U.S. representatives. 

Prior to his FSA appointment, Dolcini worked for a Fortune 500 technology consulting firm. As a fifth-generation Californian and a native of Davis, Dolcini has a bachelor's degree in history from San Francisco State University and a law degree from Golden Gate University School of Law.