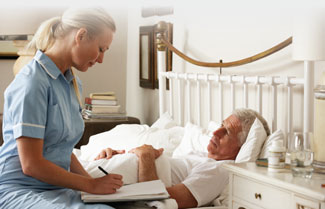 Plan now for long-term health care needs and costs to protect your farm and assets
At least 70% of Americans older than 65 will need long-term care services and support at some point. It will not likely be temporary care, either, as the average person will incur three years of long-term care costs.

Since most farmers' assets are non-liquid, planning for long-term care needs is vital. "If you don't take the proper steps to plan appropriately, you are literally betting the farm," says Scott Nolen, long-term care consultant with New York Life Insurance Company. Even though farmers have some non-liquid assets, long-term care costs can quickly surpass those, he adds.
Long-term care comes in a variety of forms—from in-home care to nursing homes to assisted living. Depending on the type, annual costs range from $30,000 to $90,000.
The odds of needing care are higher for women—30% more than men. That's because women tend to outlive their spouses and likely provide care for their spouse and others. 

When identifying options, decide if you or your family wants to provide care or manage it, says Wes Hentges, financial planner and trustee of AgriLegacy, a succession planning firm. "Just remember, family members can't always provide proper care due to time or expertise," he says. "Providing care has a lot of emotional ups and downs." 

Include the financial costs of long-term care in your succession plan. "If a nursing home situation is created, you can eat up off-farm assets fast," Hentges says. "The cost of long-term care can devastate a farm."

A farm accident or major medical issue can happen in an instant. "If you have a stroke, you may not be able to communicate your wishes to your family," Nolen says.

Once you decide on a long-term care plan, write it down and share it with your family, Nolen says. "Put it in a place where your family knows where to get the information," he adds. 

Additionally, discuss plans with your accountant, lawyer and financial adviser. Farms set up in certain entities can receive tax advantages for providing long-term health care to its owners, Nolen says. 

Above all, farmers need to take time now to plan for their long-term care needs. "Informed people who don't act will lose just as much as uninformed people who can't act," Nolen says.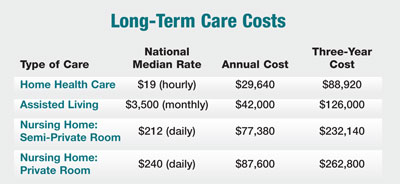 Long-term care comes in a variety of forms, and cost varies greatly, depending on the type of care and location.