By Aimee Cope and Sonja Begemann
Effective nutrient management means saving money and the environment, a win-win
The first thing on Maryland farmer Keith Leaverton's mind most mornings is protecting his soil, the lifeblood of his farm. One long hour to Washington, D.C., and only 20 minutes to the Chesapeake Bay, Leaverton knows the importance of not only protecting his soil but protecting the Bay, too.

Farming near the Chesapeake Bay brings unique regulations for the 87,000 farm operations and 8.5 million acres of cropland that comprise nearly one-quarter of the Chesapeake Bay watershed. Ag is responsible for 42% of the nitrogen (N), 58% of the phosphorus (P) and 58% of the sediment entering the Bay, according to the Chesapeake Bay Program, a government-funded consortium focused on reducing pollution. That's the largest source of pollution, which is why farmers are so heavily regulated.

Farm Journal Field Agronomist Ken Ferrie says farmers across the nation should pay attention—what affects farmers near the Chesapeake Bay will soon affect them. 

"If you think nutrient runoff isn't your problem, or it'll never come to being regulated in your area, think again," Ferrie says. "This issue is spreading rapidly across the country." 

Controlling runoff makes business sense, too. If you're losing nitrates every year, it's not just hurting the environment, it's hurting your checkbook, says Sean McMahon, executive director of the Iowa Ag Water Alliance (IAWA), which is dealing with similar runoff issues. "Harness economic drivers for conservation, such as improved nutrient management, practices that improve soil health and investing in the right acres," he says.
The Maryland Water Quality Improvement Act requires farmers to submit annual nutrient-management plans. This applies to anyone with gross farm income of more than $2,500 or who owns more than eight head of livestock. The act details how and when farmers can apply nutrients. Compliant farmers can qualify for government, cover crop and manure programs.  
For the plans, projected yields are calculated by taking the average of the best seven of the past 10 years, based on Farm Service Agency or crop insurance data. The Maryland Department of Agriculture uses this average to allot a certain amount of N for each field. This is based on 1 lb. of N per bushel, with a maximum of 250 lb. of N per field. Also, N can be applied only after March 1. The allotment doesn't include fall applications, which are only allowed in certain cases.
To Leaverton, being told how many pounds of nutrients he can apply doesn't necessarily match progressive agronomics. In some ways, it puts a ceiling on the crops' potential.

"Being given a certain allotment based on yields doesn't take into effect temperatures at critical growing stages, growing degree units and the unpredictable effects of Mother Nature," he says. "I never want to overapply nutrients because it directly affects my bottom line; however, I do want to provide the crop with the right amount of nutrients when it demands it."   

"As technology and advancements in seed genetics increase, we're limited to older standards and cannot take advantage of opportunities to increase yields," says Greg Hawn, Leaverton's nutrient-management consultant.  

Leaverton pays Hawn annually to write his plan. The collaboration allows Leaverton to comply with regulations and strive to get as much out of his allotted nutrients in order to push the envelope on yields. 

Although soil samples are only required every three years to comply, Leaverton takes them annually to keep his plan as accurate as possible. This gives him a better idea of where he stands year to year on nutrient availability on a field-by-field basis after harvesting various sized crops. 

"As a farmer, we don't want our nutrients in the Bay either; we want them to stay and help grow our crops," Leaverton says. 

Since the total amount of N is capped, it's imperative to find the most efficient application method for optimum plant uptake. "I implement the 4R approach [right product, right rate, right time, right place] and receive yield benefits through this practice," Leaverton says. "I split-apply nitrogen three times in the growing season: with the planter, at sidedress and using Y-drop applicators." 

Maryland farmers are reaping the benefits of implementing nutrient- reduction plans and new practices. They've already achieved 99% and 96.8% of their 2017 milestone goals for N and P reduction, respectively, according to the 2013 Bay Model progress run.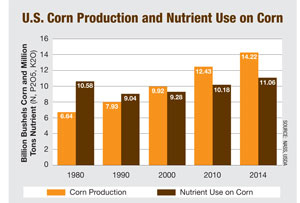 In the past 30 years, farmers have increased nitrogen efficiency by 105% without sacrificing yield through technology and conservation practices.
Moving south to the Mississippi Delta, farmers continue to implement production practices to minimize the nutrients that find their way to the Gulf of Mexico. The Delta is a unique area of deep, rich topsoil, which gets an annual rainfall of more than 52" and has access to an alluvial aquifer for irrigation. More than 80% of the Delta is cleared land for farming and even though the land is somewhat flat, there's a lot of unwanted soil and nutrient movement.   

"We started land forming and installing pipes and pads on our farms in the 1960s and have added several conservation practices as they were introduced and partnered through the Natural Resources Conservation Service," says Pete Hunter, a farmer from Clarksdale, Miss. 

Hunter's practices place a special emphasis on conservation tillage and residue management. His practices include crop rotation, cover crops, minimum tillage, no-till, grass waterways, filter strips, continuing Conservation Reserve Program to capture runoff, low-water weirs in two-stage ditches, GPS-grid soil sampling and variable-rate GPS fertilizer application. 

"I also split-apply fertilizer applications, use integrated pest management, closed chemical-mixing systems, air-induction tips, reduced pressure and lower boom heights to prevent off-target spraying," Hunter says. "We also use time-release nitrogen fertilizers."  
Farmers across Iowa and many other states are keeping an eye on the Des Moines Water Works (DMWW) lawsuit against three local counties. The lawsuit is a result of what DMWW claims are excessive nitrate levels in the Raccoon River, which provides 500,000 Des Moines residents with water. 

"The safe drinking water act says more than 10 mg of nitrates per liter is a human health risk and rivers are at 14," says Bill Stowe, CEO of DMWW. "Our denitrification system was built on assumptions of lower nitrates. If we keep seeing levels this high we'll have to invest $80 million in new denitrification technologies." 

DMWW claims higher nitrates are a result of nutrient runoff from naked fields, tile lines and other nutrient mismanagement from row-crop farmers.

"It feels like we got kicked in the gut," says Brent Drey, corn and soybean farmer from Sac County, one of the Iowa counties involved in the suit. "The farmers who have changed feel like our work has been for nothing."

Drey farms with his dad just north of Sac City, where they've implemented practices from Iowa's voluntary nutrient-reduction strategy. For example, they've added more than 70 acres of buffer strips to help reduce nutrient runoff into ditches and streams. He says they're not the only ones. 

"Folks who've never made a conservation effort put in cover crops and started using no-till or minimum till. I haven't seen a moldboard plow since this lawsuit started," he adds.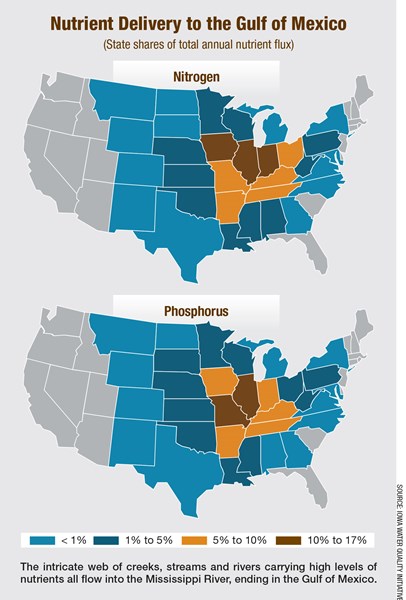 The intricate web of creeks, streams and rivers carrying high levels of nutrients all flow into the Mississippi River, ending in the Gulf of Mexico. 
Farmers have found adding conservation practices might require additional effort, but they can be beneficial in the long run. For example, through the Farm Journal Test Plots, Ferrie has documented up to 39 bu.-per-acre yield gains with split N applications. Split application can help decrease the opportunity for N to leach and supplies N when the plant needs it most. 

Careful management of nutrients to reduce loss can help keep more nitrates out of the water to avoid making conservation practices mandatory and decrease fertilizer costs.
Many farmers fear regulations created by someone unfamiliar with farming. IAWA was formed in 2014 to outline best practices for farmers to voluntarily improve water quality.

"Unfortunately, there's no silver bullet when it comes to improving water quality," McMahon says. "But with the right combination of conservation practices, we have silver buckshot. We focus on providing proactive solutions to reduce N and P loss." 

Iowa's voluntary nutrient-reduction strategy suggests practices farmers can test drive to see what works best for their operation. Management adjustments include application rate, timing and method; land use encourages farmers to use cover crops, extended rotations, grazed pastures and land retirement; and edge-of-field practices involve drainage-water management, wetlands, bioreactors, buffers, terraces and sediment control.

Several states have a nutrient-reduction strategy and water-quality program or its equivalent, many of which are voluntary. Those strategies could be similar to Iowa's or have state-specific recommended guidelines of which farmers should be aware. Take a look at what your state offers for water-quality solutions and how you can implement them on your farm to avoid major issues that could make voluntary programs mandatory.
This is the first story in an educational series on the consequences of nutrient runoff. It's only a matter of time before regulations are the norm. For more on your state nutrient-reduction plan and resources to proactively reduce runoff, visit www.FarmJournal.com/nutrient_runoff