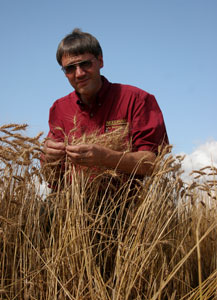 Join us at
Farm Journal Wheat College
 on Tuesday, Feb. 24 in Manhattan, Kansas for training on the fundamentals for high yields in wheat. High-yield wheat expert Phil 
Needham will lead this one-day program that provides growers with tips for better yielding wheat that they can take straight to 
the field. Topics to be discussed include: wheat management systems, new technologies, fertilizer management, nitrogen, disease, 
insects and growth regulators. There will be approximately 4.5 CEU credits offered at the seminar.
View the agenda below or for more details and to register,
click here
. 
8:00 – 9:00 a.m.    Registration: Expo Open 
9:00 – 9:15 a.m.    Welcome from Farm Journal 
9:15 – 10:50 a.m.    
Tips for Top Fertility Management
presented by Dr. Dave Mengel, Professor of Agronomy, Kansas State University
Attendees will learn the importance of managing their wheat fertility program. This includes P and K management, specifically in a no-till system. The session will also provide how to lime low pH soils and adjust base saturation. 
10:50 – 11:00 a.m.    Break and Expo Open
11:00 – Noon    
Steps to Manage Current Crop Condition for High Yields
presented by Phil Needham
This session will walk attendees through how to manage their current crop condition until harvest to maximize yields and profits. Attendees will learn about the different stages of crop conditions and the importance of nitrogen and herbicide timings. 
Noon – 1:00 p.m.    Lunch and Dessert in Expo
1:00 – 2:00 p.m.    Learn the Latest in Wheat Management presented by Phil Needham
Today's technologies provide numerous tools to better manage your wheat crop and boost yields. This session will cover the latest forms of nitrogen, fungicides, growth regulators and seeding equipment that can help you reach your yield goals.
2:00 – 2:15 p.m.    Break and Expo Open
2:15 – 3:00 p.m.    Disease and Insect Management presented by Phil Needham
Attendees will learn disease and insect management strategies to protect yields and profits.
3:00 – 3:30 p.m.    Open Agronomic Q&A
If you can't make this Wheat College, join high-yield wheat expert Ronan Cummins and Farm Journal Associate Field Agronomist Missy Bauer March 3 in Coldwater, Mich., for
Wheat and Soybean College
.