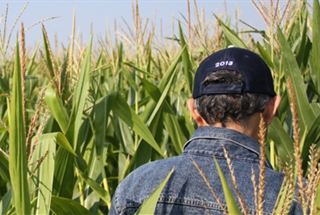 The best way to help your crop is to know your crop and the best way to do both is to get out and scout your fields. Scouting is an important aspect for crop management decision making, but many farmers don't take the time to properly scout their fields for pests and diseases.
Instead, they elect to follow the same crop management protocol each year. This can lead to unnecessary spending or yield loss in many cases.
"The most important thing farmers can put on their fields is their shadow," says Mo Way, an entomology professor at Texas A&M University.
To help prevent these problems from occurring experts have weighed in to deliver successful scouting tips to help your crops.
Start Early
To avoid a pest problem, it's best to look early in the season before there is an outbreak. You should also test different areas of a crop, not just the edges, Way notes. This helps create a more uniform picture of how the overall crop is fairing.
Being proactive also helps distinguish problems between equipment problems or diseases, says Ken Ferrie with Missy Bauer, Farm Journal's field agronomists in Corn College TV Season 5.
In episode 4, Ferrie is out scouting a corn field and discusses how some stalks are shorter than those surrounding them. He continues to note how the zone showed up on earlier imaging but they didn't go out until later. Now they don't know if it was due to the planter or seed blight.
"If you get there and the clues are already gone then that's a clue for next year to step up your window of timing," Ferrie says.
Inspect Actively
Farmers often spend large amounts of money on pesticides because they are spraying what they believe to be bad bugs, Way notes. However, there are also beneficial bugs, he continues, and one of the major advantages to scouting is physically seeing the difference.
 "By scouting, a farmer can delay pesticide applications and preserve the number of beneficial insects while reducing the pesticide load on the environment," Way says.
A visual inspection can help distinguish beneficial and harmful pests, but it's also important for ground truthing, Bauer says. With ground truthing you should inspect crop uniformity, growth and development and the roots of the plants. You should also take both good and bad soil and tissue samples for comparison later.
Once all of these steps are complete, she says you should compile all of the data and make an informed decision on what to do next. The compilation can tell you if you can correct the problem then or make an improvement on it for the following year.
Use Proper Tools
Drones are a newer technology to the agriculture industry and have the capabilities to take aerial images of crops and show where you want to get out and scout. To Ferrie, he sees them as another tool in the toolbox to improve farmers' "boots on the ground scouting".
"I don't think they will replace scouting, but I think they will make guys more efficient in their scouting and may cause them to scout," Ferrie notes.
There's still a lot to learn with drones and their potential uses. Other more common tools Bauer recommends to scout with include past records, a GPS device, a shovel, a tape measure and a knife or hatchet.
If you're after bugs, Way recommends using a sweeping net during scouting and to sweep in figure eights down the rows.
Learn more about crop scouting in Episode 4 of Corn College TV Season 5 or at an upcoming Corn College session. For a full list of events click here.