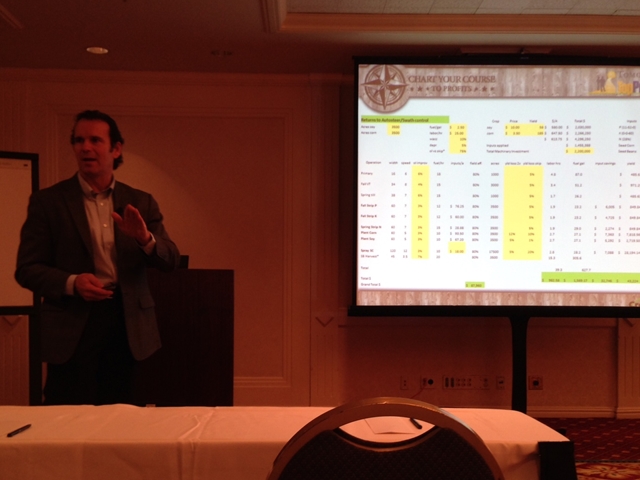 When evaluating technology payback, consider the amount of overlap or skipping you will eliminate by adding a particular tool to your farm. That's the recommendation of Ohio producer Brian Watkins, who spoke during a breakout at the 2015 Tomorrow's Top Producer one-day conference.
To determine return on investment, break out the operations you perform in a spreadsheet.

"We want to model the operations that we're doing," explains Watkins, who also has developed a soon-to-be introduced business software called CropZilla. Consider the type of application, such as performing tillage or applying fertilizer; evaluate the speed and fuel usage of machines; weigh capital cost; and determine the impact on yield.
Autosteer and autoswath alone can result in significant savings simply by reducing operational overlap.
There are several ways to evaluate investments. One is payback period, Watkins says, but this doesn't take into account the interest cost or cost of capital over time. The second way is net present value, which can help producers evaluate how much benefit an investment will create in a given period of time, comparing apples to apples on a cash-flow basis. 
---
Cash Rents Inch Lower
---
Tiny savings over fields add up to a lot when the whole farm is taken into consideration.
For example, variable-rate seeding has resulted in a seed savings and yield increase for soybeans, Watkins explains. Listing out nutrient removal rates also has proven beneficial.
"By incorporating removal on a yield map, you're going to increase the efficiency of your P and K," he says. Precision ag does pay, he says, the question is how each farm chooses to adopt it.
For more information on the Top Producer Seminar or Tomorrow's Top Producer events, visitwww.TopProducerSeminar.com.
....................................
Thank you to the 2015 Tomorrow's Top Producer sponsors:
Bayer CropScience, Case IH, Conservis