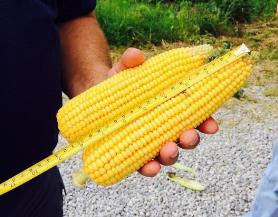 Odds heavily favor the 2014 corn crop setting a new yield record, yet challenging conditions since early spring in key western Corn Belt states may prevent this year's harvested corn from eclipsing last year's production record.
On Aug. 22, Pro Farmer released its 2014 corn and soybean estimates. Pro Farmer pegs 2014 U.S. corn crop at 14.093 billion bu.; Average yield of 169.3 bu./acre and the U.S. soybean crop at 3.812 billion bu.; Average yield of 45.35 bu. /acre. Read more about Pro Farmer's estimates.
The Story Behind the Numbers
"The crop isn't in the bin yet," Chip Flory, Pro Farmer editorial director and western Midwest Crop Tour director, cautioned at the final night's program of the tour in Rochester, Minn. Moreover, the crop is so tall in states like Illinois that some harvest challenges could materialize, he says. Because of that, he cautions producers against letting corn sit too long in fields in an attempt to reduce drying costs.
"We expected a big corn crop, the market expected it, but we didn't confirm anything bigger," says Brian Grete, Pro Farmer editor and Eastern Midwest Crop Tour director. Even in Illinois, a state the tour projects at a whopping record 197 bu./acre, scouts still did not find evidence of the 300 bushel/acre yields in some fields that some market observers have suggested. The highest Illinois sample was 284.
"It's questionable whether we'll have record U.S. production but we should have record yields," Grete says. He quickly adds, however, that the Illinois crop still is well on its way to a record and has delivered on its advance billing. The Illinois crop appears out of the woods for an early frost, unlike states further west. "Illinois has the best corn in any state," Grete says. Crops in Indiana and Ohio also are in very good shape, scouts confirmed.
Yet for as good as this year's corn crop is and market chatter than yields could top 170 bu./acre, "170 is possible but very difficult to do," says Flory. "You have to put big numbers in."
Further challenging the crop in setting an all-time record, Grete adds that USDA may be high on its harvested acreage projection on corn, and possibly "a tad high" on soybean acreage. It's late in the growing season, but weather between now and harvest will loom large on whether records are hit, he says.
For example, last year's corn crop was highly immature in many states late August but was saved by a late fall. In Ohio—and this applies to other states as well—"a lot of corn is in the dough/dent stage," says Mark Bernard, eastern tour agronomist. "It needs two to three weeks yet." That's less true in Illinois and Indiana.
While the eastern leg of the tour was largely a story of near perfection—with the notable exception of eastern Iowa pounded with two months of very dry weather—several states in the western leg of tour displayed problems.
South Dakota's crop appears to be good but average, but corn in Nebraska and Minnesota face an uphill battle this year. "Some skips are out there," Flory said of irrigated corn in Nebraska hurt by a June frost. So overall, the Nebraska crop will not post record numbers like some of its eastern neighbors. And in Minnesota, the wettest spring in history caused nitrogen losses in field and was followed by two months of extremely dry weather.
"We only had 85/100 of an inch in July and 2/10 of an inch until Monday night," says Denny Rollenhagen, veteran scout who farms near Wells, Minn. Flory thinks USDA may have overstated Minnesota yields in its August report.
No doubt, soybean numbers are up with it apparent that bean acreage was up throughout the tour. "But it needs water and some time," Grete says. Still, pretty much everyone was looking for a record soybean crop that the crop tour validated.
For More Information
See full coverage of the 2014 Pro Farmer Midwest Crop Tour, hosted by Pro Farmer.
Follow the tour on Twitter with the hash tag #pftour14.
---