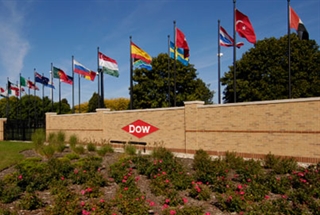 Dow Chemical Co., under pressure from activist investor Dan Loeb to break itself up, said it expects to reach accords to sell three units by year-end for proceeds of more than $2 billion.
The sale of its Angus Chemical Co., Sodium Borohydride and AgroFresh businesses should be completed early next year, the Midland, Michigan-based company said today in a statement.
Dow, the largest U.S. chemical maker, also said it divested part of its rail-car fleet, generating almost $450 million in cash, and plans to take full ownership of a plastics joint venture with Exxon Mobil Corp.
Chairman and Chief Executive Officer Andrew Liveris is pursuing his own plan for asset sales after Loeb's Third Point LLC hedge fund said in January that the company should spin off its petrochemical assets to improve profitability. Dow said today that it has completed $1.3 billion of asset sales and expects that its total divestments will be toward the higher end of its forecast range of $4.5 billion to $6 billion.
Liveris has defended his company's integrated structure, which encompasses disparate businesses such as plastics and genetically modified seeds. Dow makes commodity chemicals, such as ethylene and propylene, to provide ingredients for its higher-value products in agriculture, electronics and plastics, he said in January.
No terms were disclosed for the acquisition of Exxon's stake in Univation Technologies LLC, which is expected to close by the end of the year. Dow said it's "working rigorously to rationalize its position in joint ventures that -- while valuable -- no longer align with Dow's strategy."
Dow slid 0.1 percent to $50.42 at the close in New York. The shares have advanced 14 percent this year.