A strong upper-level ridge of high pressure dominated the nation's weather this U.S. Drought Monitor week.
This ridge brought well above-normal temperatures to the central and northern tier states, reports Richard Heim, National Climatic Data Center, NOAA. Clouds with scattered showers and thunderstorms along a stalled cool front kept temperatures below-normal in the southern states.

But even then, maximum temperatures were 90 degrees F or warmer across much of the country, with maximums exceeding 100 from South Dakota to Kansas. Beneficial rain fell from southern Texas to the southern Appalachians along the front.

Excessive rainfall occurred over southeast Texas where amounts totaled 10 inches or more in places, but elsewhere rainfall amounts were generally localized with limited relief. Monsoon showers and thunderstorms brought above-normal rain to parts of the West, but the rain had little impact on deficits which have accumulated over several months.

Weak fronts triggered localized showers and thunderstorms along the northern tier states. In between, hot and dry weather dominated from the central Plains to Ohio Valley, Great Lakes, and Northeast.

Another week of hot and dry weather continued the deterioration of crop conditions in America's breadbasket. USDA reports for the week ending July 15 indicated that 38% of the nation's corn crop was in poor to very poor condition, compared to 30% a week ago, and 30% of soybeans were in poor to very poor condition (compared to 27% last week).

Fifty-four percent of the nation's pasture and rangeland was in poor to very poor condition, which is a jump of 4% compared to last week and is an all-time high for the 1995-2012 growing season weekly history.
The Weather Ahead
 
Temperatures for much of the country east of the Rockies will be above normal, with departures possibly 10 to 15 degrees above normal from the central Plains to Great Lakes.

For July 24-August 1, dry weather is expected to dominate in the southern to central Plains, across the Gulf coast, and along the west coast, while monsoon showers should bring above normal precipitation to the Southwest.

Above-normal temperatures should maintain their hold across the interior U.S. from the Plains to Southeast, with cooler-than-normal conditions along the west coast. Alaska is forecast to be wet with above-normal temperatures in the northeast and cooler-than-normal conditions in the west and south.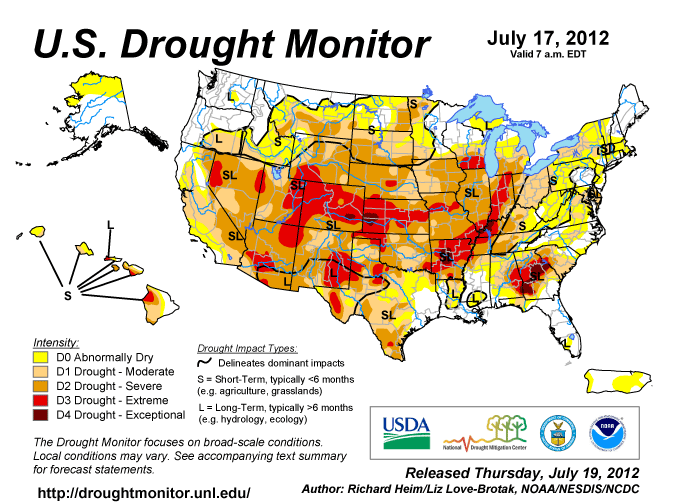 Streamflows were in the lower tenth percentile of record, or at record low values at several time scales, across much of the Midwest and parts of the central Plains, West, Southeast, and even parts of New England. As a result, the impacts boundaries were shifted to reflect short-term and long-term drought conditions from the west coast to Ohio Valley and Southeast, with short-term conditions indicated in the northern tier states and from eastern Tennessee to New England.
Long-term impacts were indicated for parts of the Southwest and central Gulf of Mexico states.
The Northeast and Mid-Atlantic: Light to locally moderate rain fell across parts of the region. But even the heaviest amounts, which fell in southeastern Pennsylvania and extreme southeast New York, were barely above normal for the week.

The Southeast, Deep South, and Southern Texas: Widespread heavy rains and flooding in southeast Texas resulted in significant improvement with the USDM depiction improving by two categories in parts of Texas and adjacent Louisiana. Elsewhere along the front, drought conditions improved by one category in a few local areas where 2-3 inches, or more, of rain fell, from Mississippi and southern Arkansas to West Virginia, and from Georgia to North Carolina.

The Great Plains to Midwest: Unrelenting heat and lack of rain continued the downward spiral of drought conditions. D0 to D2 expanded across parts of the Plains from Texas to North Dakota, from Missouri to Minnesota, and in the southern Great Lakes. Extreme drought was introduced in Nebraska, Missouri, and Wisconsin, and D3 expanded in Arkansas, Oklahoma, Kansas, and Indiana.

The West: Monsoon showers held drought deterioration at bay across much of the West, but with amounts mostly an inch or less, little improvement was seen. Even the 2+ inch rains in parts of Arizona were not enough to change the drought depiction. D4 in northwest Colorado was removed as conditions improved from recent rains, and the D1 was removed and surrounding D0 shrank in central Washington as precipitation in recent weeks justified the reassessment there.
For More Information
Read more news and coverage of the 2012 drought.
---