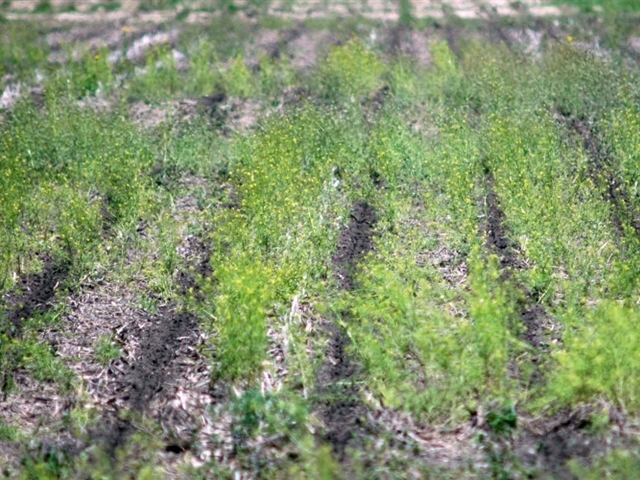 If you could replicate a star athlete every team would want one. That's what happens with seed trait technology—a trait "star" often plays for multiple "teams."
Currently, Dow AgroSciences is developing a weed control system, comprised of Enlist herbicide tolerant traits for corn, soybean and cotton seed, and Enlist Duo, a proprietary blend of 2,4-D choline and glyphosate. By combining two modes of action, Dow AgroSciences says the herbicide will control and help prevent further development of herbicide-resistant weeds. 
Upon commercial release, Dow AgroSciences will sell Enlist in its seed brands, including Mycogen Seeds, Pfister Seeds, Prairie Brand Seed, Brodbeck Seeds, Dairyland Seed and PhytoGen Cottonseed.  
Plus, the company will license the technology to other seed companies so farmers will also have access to the technology through other brands.
"Farmers want and deserve choices in technology and seed brands," says Damon Palmer, marketing directors of U.S. seeds for Dow AgroSciences. "Our plan is to broadly license Enlist through other seed companies, and we're excited to be able to provide Enlist through multiple seed brands."
So far, Stine Seed Company and Merschman Seeds have signed on to license the Enlist E3 soybean technology. Monsanto has taken a license for Enlist corn. Additional licenses are pending.
Dow AgroSciences recently announced quality standards for stacking glyphosate traits with Enlist, he says. For example, Enlist will only be stacked with advanced glyphosate traits. Dow AgroSciences will not allow stacking with older generations of the Roundup Ready trait.
Monsanto Company officials plan to launch Roundup Ready Xtend soybean seeds, a competing product to Dow's Enlist soybean products, in 2016. This new trait and herbicide system will contain the Genuity Roundup Ready 2 Yield trait technology stacked with a trait tolerant to dicamba as well as glyphosate herbicides. The herbicides will be paired in a premix of dicamba and glyphosate called Roundup Xtend herbicide.
DuPont Pioneer is licensing Monsanto's Roundup Ready Xtend soybean seeds. Syngenta is evaluating whether to use Xtend technology, according to a recent Bloomberg article.
The Road to the Planter
Weed resistance is a chronic problem that doesn't appear to be fading—instead, it seems to be growing.
"In 2014, acres of glyphosate-resistant weeds actually increased another 20%, according to some data we just received," Palmer says. "Over 80 million acres are now infected with glyphosate resistance."
Dow AgroScience's Enlist traits and herbicide will provide another tool for weed control, Palmer says. "The farmers who have been able to use the Enlist products under permit have been happy with the results," he says.
These products have been in development for years and are close to clearing the final hurdle for full U.S. commercialization. Palmer says Enlist corn, Enlist soybeans and Enlist E3 soybeans (which feature three herbicide-tolerant genes stacked together) have received full U.S. deregulation and approval.
In October, EPA approved the use of Enlist Duo herbicide in Illinois, Indiana, Iowa, Ohio, South Dakota and Wisconsin, with 10 more states pending registration. 
Before U.S. farmers can plant seeds with this technology, however, Dow AgroSciences has to gain approval for the traits by importing countries. "We are making great strides in global registrations for the products," Palmer says. "We are currently awaiting China." He says the technology has been approved to be grown by farmers in Canada, and they are seeking cultivation approval in Argentina and Brazil.
For 2015, Palmer says a select group of farmers will be planting Enlist corn and Enlist soybean seed, coupled with the Enlist Duo herbicide, through a highly monitored testing program. He says the team at Dow AgroSciences will ensure the farmers are using the technology properly, and the company will maintain the grain after harvest to prevent it from being exported.
Full commercial launch of the Enlist traits and herbicide for corn, soybeans and cotton is expected in 2016. "We anticipate we'll have all the necessary registration in most of the corn, cotton and soybean growing areas," Palmer says.