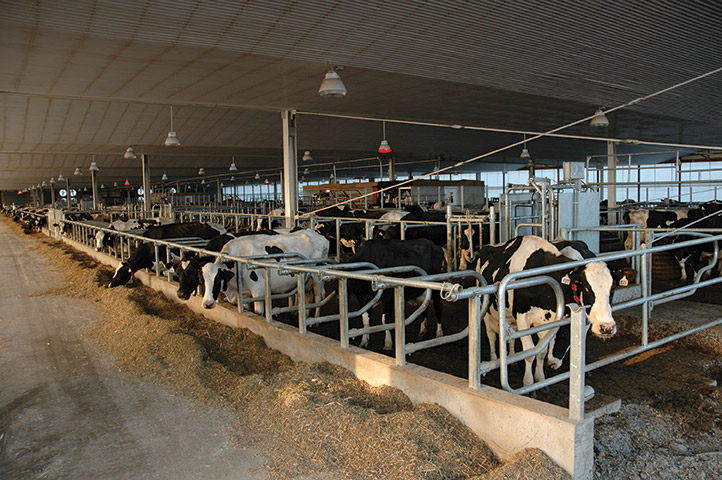 Assess technology with patience, flexibility and failure acceptance
To say the management at Mason Dixon Farms near Gettysburg, Pa., has a knack for successfully evaluating promising new dairy technology is a classic understatement, pure and simple. Doyle Waybright; his brothers, Bert, Alan and Joel; and several other family members are constantly looking for ways to move their operation forward.

This 2,600-cow dairy's track record for innovation and successfully adopting new technology proves the point. On the list of the dairy's accomplishments during the past four decades are installing the country's first methane digester (1979), designing and constructing a first-of-its-kind milking cow train (1995) and being early adopters of robotic milkers (2005).
    
"Our motto at the dairy is, 'Success is optional; change is inevitable,' " Doyle says. "The only way to bring about change—the only way to make improvements—is to be bold and try new things."
---
Bonus Content
Videos of Mason Dixon Farms
---
As proud as he is of Mason Dixon's various accom­plishments, Waybright is quick to point out that a willingness to fail occasionally underpins many of the dairy's successes. "Failure doesn't mean the end of something. It only eliminates one of the options on the way to success," Waybright says.

"Many times, success comes about by going through failure to find what works. Failure causes one to rethink, ponder new options and try again," he adds.

Waybright tells the story of an enclosed, heated calf barn built on the dairy in 1969 to house newborn calves and grow them to four months of age. The facility incorporated the best ideas of the time for ventilation, automatic feeding and manure removal with flushing water. But it wasn't enough. "That barn was the worst thing ever for raising calves. Both morbidity and mortality were extremely high," Waybright says.

With the herd size increasing, the Waybrights abandoned the calf barn and began raising youngstock in simple outdoor wooden hutches six years later. "It was a huge success that allowed us to raise healthy heifers," Waybright says. "But it was uncomfortable for the people taking care of the calves."

To deal with that problem, the dairy decided to put rows of hutches together under a roof. That violated the principal of not allowing one calf to touch another because of the poten­tial for spreading diseases. "But we figured that with good management, the disease factor could be minimized. And we would be able to get the calf crew out of the weather," Waybright says.
 
Today, the "hutches under roof" concept is the cornerstone of a very success­ful heifer-rearing program at Mason Dixon Farms. Average daily gain for calves at the dairy is 1.7 lb. Calf mortality is less than 2%, and average age at freshening for first-calf heifers is 23 months.

"So the failure of a warm, enclosed calf barn was turned into a huge success by being innovative with the use of the calf hutches," he says. "That success spawned new opportunities. It shows that failure can be a stepping-stone to success."
 
The Waybrights continue to look for ways to improve in this part of their operation. This past summer, they hired a college intern to conduct a group feeding trial to assess increas­ing solids in calf rations, 3X feeding and automatic calf feeding. "Our target is to get the 2 lb. of daily gain that studies from Cornell show are possible," Waybright says.

Flexibility is another cornerstone of the Waybrights' approach. That flexibility led to Mason Dixon being one of the first dairies in the country to install a robotic milking system.

The dairy started planning a major expansion in 2000. During this time, two Waybright brothers went to Germany to check on a chopper that was being customized. While there, they visited several farms with robotic milking systems. When they returned home, the brothers put their expansion plans on hold while they researched robotics.

In 2005, they put in their first milking robots. Three and a half years later, they replaced the original units with a new robotic system featuring 20 robots. Today, just under half of the Mason Dixon herd is milked with those robots. (The remaining cows are milked in a double-24 parallel parlor.)

"Sometimes, you have to back up and punt," Waybright says. "If we have to do something over to do it better, we'll do it over."
 
Patience and perseverance are equally critical when it comes to assessing new technology. Waybright says that's something he learned from his father, Richard, and his uncle, Horace, when the Mason Dixon operation was looking for ways to improve its forage harvesting program in the 1970s and 1980s.

"A lot of our soils are marginal for growing crops," he says, noting that the farm's five-year average for non-irri­gated corn silage is only 13 tons per acre (32% dry matter). "In order to get the tonnage of high-quality forage we need for the dairy herd, we travel across a lot of acres."

Since the kind of machi­nery needed for making improve­ments in forage quality wasn't available at that time, Richard and Horace spent countless hours tinkering in the farm shop to come up with "innovative ideas and small fixes."

They ended up customizing and/or building their own mowers, forage harvesters, hay mergers and trailer containers. "A lot of times, their ideas were simply drawn on the shop floor with a soapstone," Waybright says. "Eventually, they found ways that allowed the farm to meet goals for labor efficiency, reduced soil compaction and crop loss, and forage quality."

The key, he says, is that he and his brothers were absor­bing valuable lessons while observing the senior gen­er­a­tion. "They [Richard and Horace] instilled in the next generation the sense of finding a better way to accomplish a given task. In turn, that's fostered a culture of brain­storming at the dairy as a way to come up with new ideas for addressing challenges. It can take a lot of trial and error. But if you stick with it, you'll find something that works and get the job done."