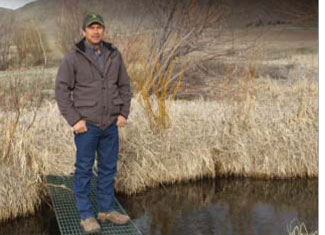 Barley farm and beer-maker partner up to conserve water
Smack in the middle of Idaho, encircled by barley and alfalfa fields, is a wild wonder known as Silver Creek. It is a place where hikers can glimpse mule deer asleep under sagebrush, view panoramas of vibrant wildflowers and watch caddis flies bob over the water's surface. The beautiful landscape turns even serious farmers nostalgic and gives weight to the word "stewardship."  

Gary Beck has managed a farm on the edge of Silver Creek for two decades. His daily work at Hillside Ranch is a balance of barley production, water management and public relations. Environmentalists from around the world trek by his farm to visit The Nature Conservancy's Silver Creek Preserve. It is normal for urban strangers, often on their way from Idaho's famous Sun Valley ski resort, to stop Beck in the field and question his farming practices and impacts on the environment. 

"I have been asked some real doozies," says Beck, who grew up on a farm in Burley, Idaho, and now manages thousands of acres owned by John Stevenson, the son of two-time Democratic presidential nominee Adlai Stevenson. "I have no choice but to be calm and explain the best I can how modern farming is more sustainable than before. Most people have no idea the costs of farming or the efficiencies we put into our operation." 

Healthy skepticism between the nature-loving public and farmers is nothing new. Rifts caused by politics and legal decrees make it difficult to have a civil conversation. Now, partnerships between businesses, environmentalists and ag producers might help shift those perspectives in a new direction. 

For Beck, such a partnership stemmed from an unlikely source: a giant beer company. 

Making Friends. The mystique of the West has long been associated with products from MillerCoors, founded in 2008 as a joint venture of SABMiller and Molson Coors. "Brewed with pure Rocky Mountain spring water" is the marketing slogan that built the Coors beer brand. Today, MillerCoors contracts with farms in western states to grow premium barley for beer. Hillside Ranch is among its longtime suppliers.

The brewer began seeking ways to reduce energy and water usage in response to surging consumer demand for sustainable products. Also, MillerCoors began product life cycle assessments under Walmart's supplier sustainability initiative. Research found the brewing process accounted for only a fraction of a six-pack's water footprint. About 90% of water usage occurred on farms, says Kim Marotta, director of sustainability at MillerCoors.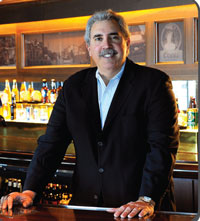 "Having access to quality water has always been a concern for us. Not having access to water at all is an even greater concern. Everyone here at MillerCoors understands the importance of water to our business and does their part to conserve it,"  explains Fernando Palacios, executive vice president and chief integrated supply chain officer for MillerCoors.

"We needed to look outside of our four walls and into our agricultural supply chain," Marotta explains.

With those findings in hand, the company worked with farmers to track its water footprint from grain to glass. The brewer buys 70% of barley from about 850 growers in Idaho, Colorado, Wyoming and Montana. Many of them have relationships with Pete Coors, chairman of MillerCoors board of directors. 

Implementing a consistent strategy, however, proved difficult because water availability in those states varies. So in 2009, MillerCoors formed a partnership with The Nature Conservancy, which owns about 12,000 acres of Idaho land, some of which it leases to producers.

"We're surrounded by barley farmers," notes Dayna Gross, manager of Silver Creek. "Because Silver Creek is spring fed, our priority is protecting ground water." 

A Natural Fit. One of the first actions of the partnership was to enlist science's help. A hydrological model showed lower ag water use would raise groundwater levels and produce a colder Silver Creek with more abundant trout populations.

With help from the model and farmers, the conservancy generated a list of best management practices for barley farms. It began to implement them with MillerCoors' funding and a landowner match. Producers lowered and upgraded irrigation nozzles; adopted variable-rate irrigation; installed smart panels; fenced off creeks and planted vegetation alongside them; restored wetlands; increased setbacks; enhanced stream buffers; and monitored results. 

Not all producers bought into the plan at first, including Beck. He rebuffed MillerCoors when he was approached about participating.

"I didn't need a beer company and an environmental organization to tell me how to be a better farmer," Beck says. Later, he reconsidered and joined the program to better understand its economic impact.
---
Better With Friends
By partnering with business and environmental groups, barley grower Gary Beck is able to reduce water costs.
---

As part of the pilot, he was outfitted with a mobile app for irrigation that monitors malfunctions and remotely controls pivot speed. "I knew we were saving water and money, but I didn't know how much," Beck explains.

Nor did the farm anticipate the resulting energy savings. The tools cut energy needs in half, from an average $50 per acre to up to $22 per acre. Total annual savings are estimated at $120,000. What's more, yields increased in the first year.

Those small changes have saved 429 million gallons of water in the Wood River Valley. For perspective, 1 million gallons would cover a football field in 10' of water.

"More water is not always better," he says. "The right amount, at the right time, in the right place—that's the goal."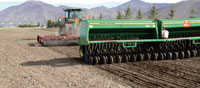 Barley seeding on Hillside Ranch in Bellevue, Idaho, takes planning. The amount of barley seeded depends on the contract and partnership with MillerCoors.

Without question, irrigation technology costs money. MillerCoors helped finance the project in exchange for access to the farm's data, which will be shared with other growers. Idaho Power subsidized some of the capital costs because saving energy means less money spent on new generators in the future.

"Some people ask 'How can you work together?' and I tell them, 'Quite well, actually,'" Beck says. Although he doesn't always agree with the environmental positions taken by the ranch's partners, he acknowledges solid benefits have resulted from the relationship.

Private and Public. The partnership between Hillside Ranch, MillerCoors and The Nature Conservancy is not an anomaly. Agribusinesses are developing solutions and partnerships that involve the farmer directly in sustainability. More farmers are seeking direct funding for environmental programs they know will benefit their businesses in the long term.

In Michigan, the W.K. Kellogg Foundation—established by its namesake cereal pioneer—has partnered with The Nature Conservancy to reduce runoff in the Saginaw Bay watershed. The watershed connects to wheat farms that grow grain for Kellogg cereal products.

Out west in California, farmer members of The California Rice Commission seek funding to expand water bird habitat in flooded Central Valley rice fields. Rice farms are indispensable to waterfowl because most native wetlands have been developed, notes Paul Buttner, the commission's manager of environmental affairs. The group has developed practices such as gradually draining fields ahead of planting and building nesting islands to make fields more hospitable for birds.

This spring, Monsanto Company announced initiatives to help farmers conserve water and maximize nutrient efficiency. By 2020, it plans to increase irrigation efficiency by 25% for all global seed production, expanding drip systems and providing annual public updates. 

Although overall water use varies because of weather, Monsanto estimates the conservation efforts will result in annual savings of 30 billion to 80 billion gallons of water. 

Also by 2020, Monsanto aims to curb greenhouse gas emissions on 1 million U.S. acres in partnership with the Walton Family Foundation and the National Corn Growers Association (NCGA). The trio will do that by focusing on the advancement of smarter seeds and precision management tools that make nutrient application more efficient.

"Stewardship is No. 1, as my family is committed to leave the land better than we found it," says Leon Corzine, an Illinois farmer and the project's NCGA representative. "I am excited about the future as more tools become available to us on the farm. Continued advancements in seed technologies and data technologies are helping us build on these improvements, supporting a sustainable farming system as we meet the needs of a growing population."

Take the Plunge. For many ag producers, partnerships with environmentalists, the government or big business are new territory. Beck admits it takes a big leap of faith to sign on, especially when the input under scrutiny is water—a constant source of worry for farmers who depend on irrigation to sustain their crops and livelihood. 

Someone who understands those fears all too well is Mitchell Baalman, a third-generation farmer from Hoxie, Kan. Baalman helps lead a Local Enhanced Management Area, a group of northwest Kansas farmers who have voluntarily agreed to pump 20% less irrigation water from the Ogallala Aquifer over the next five years. 

Officials employed by the state check well pumps to ensure farmers are compliant. In exchange, farmers hope to foster better working relationships with the government as well as with environmentalists. 

"Our aquifer is declining a foot-and-a-half per year," notes Baalman, whose crop operation encompasses 12,000 acres. "There are too many wells pulling water out—that's what it comes down to." Participating farmers hope the reduced pumping will help slow down the depletion of the aquifer. 

Baalman is well aware of the aquifer's bleak outlook. "Twenty percent won't be enough of a reduction," he acknowledges. "But we had to start somewhere. We had to change the mentality of farmers."

Both he and Idaho's Beck face a common difficulty in trying to keep the conversation about sustainable farming alive. It takes effort.

"In western Kansas, we're pretty rural, and we realized if we wanted our communities to survive so our children could have a future here, we would have to change," Baalman explains. "It took communication to get us here."
---
A 'Showcase Barley Farm' 
A suite of best management practices is on display at Idaho's Hillside Ranch, a Showcase Barley Farm developed by MillerCoors, The Nature Conservancy and farm manager Gary Beck. Numerous benefits have been achieved at the ranch, including:
Water savings of 429 million gallons since 2011  
Irrigation savings of 150 gallons of water per minute by turning off pivot end guns
Energy costs of $22 per acre to $25 per acre without end guns, a reduction of nearly 50% from the previous cost of $50 per acre with end guns