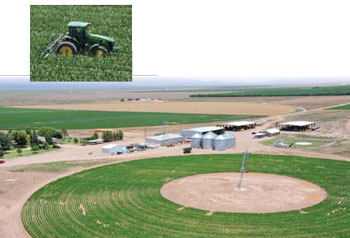 Howard G. Buffett is committed to realistic research for real farmers around the world
Everywhere Howard G. Buffett goes, he is a man in motion. Even if he's sitting still, you can bet his mind is spinning. Farming, as he wrote in his recent New York Times best-seller "40 Chances: Finding Hope in a Hungry World," calms him down. "I feel reassured and recalibrated by spending time driving equipment in the fields," he wrote. At the same time, farming is a compass for what he hopes to accomplish—not so much for himself, but for other farmers and the folks who go to bed hungry every night.

As the middle child of billionaire investor Warren Buffett, Howard has forged his own distinctive path. His father might be the third richest person in the world, but Howard is farmer-frugal and rooted in agriculture. He understands soil underpins our success as farmers and a nation. Most of all, he has seen firsthand how agriculture feeds the world. 

In his travels to 139 of the 194 countries in the world, Howard has witnessed the heart-wrenching challenges of hunger. He's looked into the eyes of desperate parents who can't feed their starving children. That realization is what drove him to use the endowment provided by his father to fund the Howard G. Buffett Foundation. The private family foundation  is a catalyst for transformational change to improve the world and the lives of the poor. 

To date, the Foundation has invested more than $150 million in research to improve agriculture and devoted an additional $350 million to agriculture-related programs globally. 

"There is a disconnect between academic research at universities and the real world of farming," Buffett says. "Academics and farmers rarely speak the same language. What ends up happening is policies are made that only hear the academics, especially when it comes to conservation. We're working to bridge that gap."

At the heart of those efforts is his Sequoia Farm Foundation. Spanning roughly 18,500 acres in three states and two continents, the Foundation has one goal: advance agricultural knowledge through farmer-led, applied research that improves stewardship and addresses food insecurity. 

Home base for the Foundation's research farms is Illinois, where 4,400 acres are devoted to research. Work at that farm focuses on cover crops, water management and nutrient management with corn and soybeans. 

One of those efforts, studying cover crops in a corn/soybean rotation, is being replicated at the Foundation's Willcox, Ariz., operation that devotes 1,525 desert acres to research. 

"Extending the research to Willcox lets us run tests in environments that are more like Africa," says Doug Oller, who oversees the Foundation's operations in both Arizona and South Africa. "The two farms are almost exactly the same elevation, the soils are similar and both are harsh climates with limited water available."

In-house research at the farm focuses on nitrogen management, the impact of cover crops on yields in arid environments, water efficiency with three types of irrigation (pivot, subsurface drip and flood) and comparing a range of cover crops (hairy vetch, black oats, barley, beardless triticale, oats, cow pea and fall radish). 

In addition, the Foundation supports research by Pennsylvania State University and Purdue University, each of which conduct extensive studies at the farm. The land, equipment, field labor, housing and a well-equipped lab are provided for the research teams.

The Penn State research, led by Jonathan Lynch, focuses on two areas: several varieties of beans, including pintos, and root architecture for corn while selecting hybrids for drought. Initial results show progress. For example, reduced root branching can improve corn yields under drought by 61%.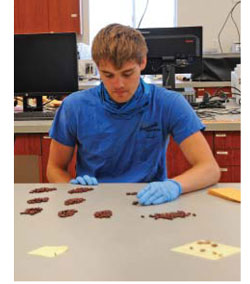 Both Purdue University and Pennsylvania State University use the private research lab on the farm.
Purdue is screening several genotypes of corn, led by Mitch Tuinstra and Tony Vyn. 
The largest research farm, 9,200 acres, is in South Africa where the Foundation focuses primarily on cover crops. This includes everything from screening varieties to cover crop seed production. B.B. Singh from Texas A&M is working to identify the cover crops best suited for Africa.

"Cover crops have tremendous potential in Africa," Buffett explains. "After watching how farmers who come to visit our farm always want to take home a pocketful of [cover crop] seed, we decided to focus on producing cover crop seed and exporting it to other countries in Africa."

The seed is sold as Sequoia Seeds, but getting it across borders and into the hands of farmers isn't easy.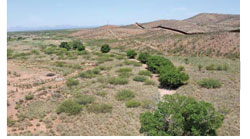 This working ranch, right on the U.S./Mexico border, is home to a grassland restoration project for better water management. The invasive velvet leaf mesquite crowds out the native grasses needed for cattle and water conservation.
"We're working with 11 countries and have only gotten seed into four countries so far," Oller notes. 

In addition to the Willcox facility in Arizona, the Foundation owns a ranch on the Mexican border (see Farm Journal, October 2015, page 27). 

The ranch consists of 2,400 acres of deeded property and 12,400 acres in a grazing allotment. Like most ranches in the area, it's over-run with velvet leaf mesquite that's choking out the native grasses needed by cattle. 

The ranch's primary focus is a grassland restoration project, working in collaboration with several federal agencies (National Resource Conservation Service, Bureau of Land Management, U.S. Forestry Service and the Arizona Game and Fish Department). 
The project suppresses hard-to-kill mesquite, so grasses can come back. Results are off to a strong start.

"We have a suppression rate above 50% on average—and in some places, up to 80% to 90%," explains Charlie Jordan, who oversees the ranch.

The goal, Buffett shares, is to make the project so successful Arizona can establish an Environmental Quality Incentives Program (EQIP) for mesquite control to give financial and technical assistance to ranchers.

A 320-acre farm in the Ogallala, Neb., area is testing perennial cover crops, a less understood approach. In addition, a 720-acre farm near Kearney, Neb. is alternating strips of no-till and conventional tillage to replicate research in Illinois. 

On all fronts, Buffett is determined to drive positive changes in production practices to preserve and maximize our resources. He starts with his own unique resource base: his knowledge of agriculture, his firsthand understanding of the complex challenges facing humanity and the financial strength to do something about it. 
---
Watch Howard G. Buffett on TV
Always one to speak his mind, farmer, conservation advocate  and famous philanthropist Howard G. Buffett shares his thoughts regarding the research work at Sequoia Farm Foundation with "AgDay" TV host Clinton Griffiths. Behind the camera is Eric Crowley, who traveled with Buffett in 2011 and produced the Emmy-nominated film on agriculture in war-torn Afghanistan. To watch the interview, visit www.FarmJournal.com/Buffett
---
Battle for Water Rights Starting to Boil Even Hotter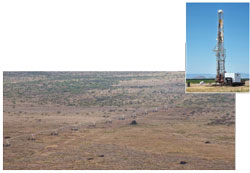 Pivots and wells pop up quickly—even on acres not in production—as part of a land grab for water rights. "Out here you buy water, not land," says Howard G. Buffett, noting water rights issues are revving up around his farm near Willcox, Ariz.
Much like other arid, drought-sieged areas of the U.S., water rights battles are heating up in the Willcox Basin. Urban and rural contingents are at odds as the water levels decline. The Willcox Basin has been recognized by Arizona as an area with long-term groundwater declines, dating back to the 1940s. Today, Alan Seitz is chairing the Willcox Basin Groundwater Conservation Area to identify solutions agreeable to both sides.