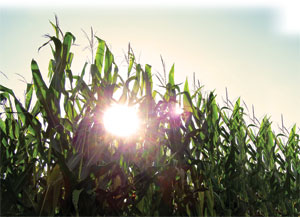 New hybrids allow farmers in nontraditional corn areas to grow corn under stressful conditions
On a cool, crisp desert morning this past spring, Dan Knisley decided he was going to plant a corn crop. That's not unusual if you're in the Corn Belt, but Knisley farms in Lovelock, Nev., where sagebrush is more common than corn.
In a region that predominantly grows hay and wheat, he'll chop his 150 acres of corn for silage for dairies in Churchill County, then graze his cows on the stubble.
Knisley first considered growing corn 15 years ago, much to the surprise of his neighbors. But drought-tolerant hybrids allow farmers in dry, nontraditional corn areas to give corn
a fighting chance and yield more bushels per acre.
Race to market. After years of research and development, DuPont Pioneer, Monsanto and BASF are racing to offer the most comprehensive, highest-yielding and water-efficient corn hybrids. Farmers are looking to these hybrids as another tool to add to their risk management portfolio.
"There's a statistic that says 85% of corn grown in the U.S. will experience a yield penalty due to a lack of water at the time it's needed," says Monica Patterson, senior marketing manager for Dupont Pioneer.
In spring 2011, Optimum AQUAmax, the first drought-tolerant seed from Dupont Pioneer, hit the market for farmer use. "It delivers rain or shine," Patterson says, due to the fact that Optimum AQUAmax hybrids are able to maintain photosynthesis better under stressful conditions and to slow down transpiration.
Mark Edge, marketing lead for Monsanto DroughtGard Hybrids, agrees that drought-tolerant hybrids help farmers manage risk. A product collaboration between Monsanto and BASF, DroughtGard Hybrids combine germplasm selected for the drought-tolerant trait, drought-tolerant characteristics and other agronomic recommendations.
DroughtGard is expected to be commercially available in 2013, pending global regulatory approvals, which will make it the first biotech drought-resistant hybrid on the market. Edge says that DroughtGard Hybrids were developed using molecular-assisted breeding primarily performed in the western Great Plains, the environment the new hybrids would be targeted to. Germplasm from arid areas around the world were used in the hybrid's development, he says.
Patterson and Edge agree that drought-tolerant hybrids will greatly benefit farmers who struggle with drought in the western Great Plains. "In the past, breeding was primarily done in the 'I' states [Iowa, Illinois, Indiana] and we said, 'When we go to western Nebraska, we'll evaluate what works well there with these products,'" Edge says. "Now we're going to drought-stressed regions and developing
hybrids that work for those farmers."
Patterson says many farmers in areas traditionally not considered to be at risk of drought are planting Optimum AQUAmax as well because of the yield advantage under normal conditions. Almost all the Iowa customers of DuPont Pioneer sales representative Jason Franck planted Optimum AQUAMax this year because of the opportunity for increased yield and reduced risk. DroughtGard does not have a yield advantage under normal conditions.
"DroughtGard maintains top-end yield potential in stress conditions, and the gene will help the plant maintain its yield potential based on the moisture that's available," Edge says.
Top yields? These new hybrids are intended to be planted at high population levels, which could prove to be a mindset adjustment for many farmers in water deprived areas. "One of the things we need growers in drought-prone conditions to understand is that to optimize potential yields you have to boost plant populations, because these hybrids are not like the flex-ear types of decades ago," Patterson says.
Will drought-tolerant hybrids allow farmers such as Knisley to grow top yields on corn acres in nontraditional states? Patterson doesn't think so.
She says, "Corn is not a cactus, and it never will be."