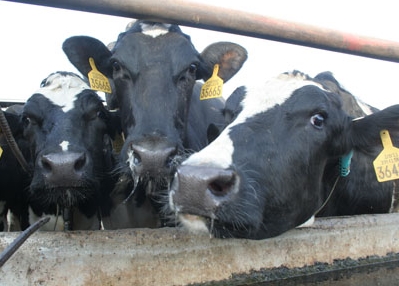 State's dairy revenue losses alone are projected to total $250 million.
California's extended drought will result in $2.7 billion in losses statewide this year, according to a new study by researchers at the University of California-Davis. 
Hit hard by reduced water availability, revenues for crops, dairy and livestock are likely to fall by $1.2 billion this year. Dairy revenue losses alone are projected to total $250 million. Livestock income will drop by $100 million.
"Our analysis compares the impacts of the 2015 drought with an average water supply year," say the study's authors. "This shows that the 2015 drought will be worse than the 2014 drought."
California farmers on average will see a 33% loss of water supply compared to a normal water year. That means they'll have 2.7 million acre-feet less of surface water. Pumping costs are expected to reach nearly $600 million. The impacts are concentrated mostly in the San Joaquin Valley.
The study, prepared for the California Department of Food and Agriculture, also estimates that farmers will fallow some 560,000 acres, or 6-7% of California's average annual irrigated cropland.
Overall, the drought is estimated to cause direct costs of $1.8 billion — about 4% of California's $45 billion agricultural economy. Accounting for the spillover effect of agriculture on the state's other economic sectors, the total cost of this year's drought on California's economy is $2.7 billion and the loss of about 18,600 full- and part-time jobs.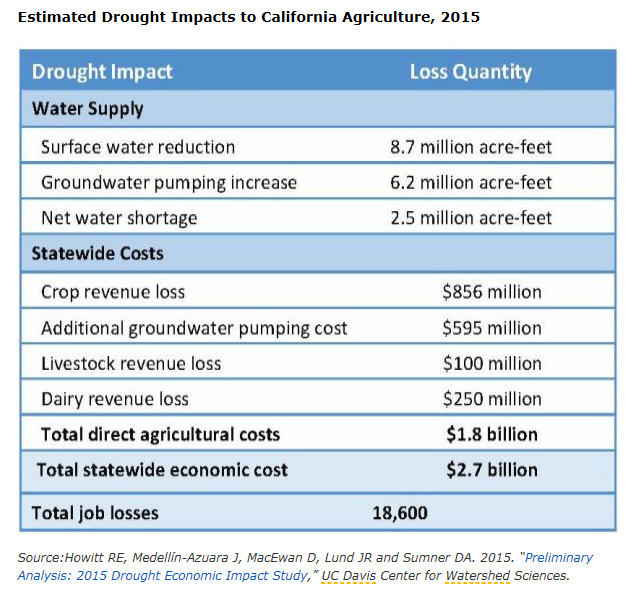 "The 2015 drought is not as severe as initially anticipated, but worse than 2014 in terms of reduced water availability and economic impact to agriculture," say the study's authors. "Groundwater substitution, water market transfers and grower use of limited water for the most profitable crops are key factors buffering the economic and employment effects of drought."
The dairy industry generates more revenue than any other farm commodity in California. The dairy sector will see major economic changes as a result of reduced milk prices and lower price-to-cost margins, the study notes. California milk production has already dropped by 3% this year but that's not entirely because of the drought.
"But abnormally high forage prices are causing rangers to cull more cows than they would because of lower milk prices alone," the study points out. "Alfalfa hay shipments to the dairy region are down relative to 2013 and 2014, even though the lower ability to pay has lowered prices from 2014 peaks. We estimate milk revenue will decrease by about 3%, or $250 million, because of the drought."
The study's authors say the results are preliminary and they plan to update their analysis in July. Co-authors with the UC Davis Center for Watershed Sciences include: Richard Howitt, professor emeritus of agricultural and resource economics; Josué Medellín-Azuara, senior researcher; and Jay Lund, professor of civil and environmental engineering. Duncan MacEwan is with ERA Economics in Davis, Calif. Daniel A. Sumner is the Director of the University of California Agricultural Issues Center and Professor of agricultural and resource economics at UC Davis. 
Read the study here.