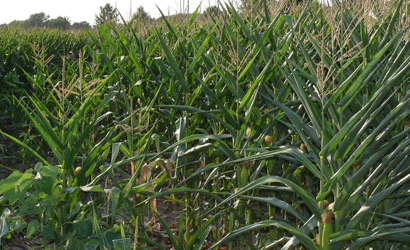 Most of the time, when something or someone "digs deeper," it's just a figure of speech. But a new study from the Texas A&M AgriLife Research Cropping System Program showed that drought-tolerant corn literally develop roots that go deeper into the soil profile to collect water.
Dr. Qingwu Xue, AgriLife Research crop stress physiologist in Amarillo, along with an assistant research scientist, conducted the two-year study, "Water Use and Grain Yield in Drought-Tolerant Corn in the Texas High Plains. The study was funded in part by Texas A&M, DuPont Pioneer and the U.S. Department of Agriculture-Ogallala Program.
Xue says little information is known about differences in water use between drought-tolerant and conventional corn hybrids.
"We wanted to know why the drought-tolerant hybrids perform well under drought conditions," he says.
The researchers compared 33D49, a Pioneer conventional hybrid that is commonly planted in the Texas High Plains, to the AQUAmax P1151 HR hybrid. They compared water use and grain yields across three different irrigation levels – 100%, 75% and 50% evapotranspiration requirement. They then measured soil water content, soil water extraction, seasonal evapotranspiration, water-use efficiency, biomass and grain yield.
"What we found was there was no difference in total evapotranspiration between the two hybrids, so they required a similar amount of water to produce corn," Xue says. "However, at the 50% evapotranspiration level, the drought-tolerant corn had a tendency to access more water from the deeper soil profile."
The study also found that AQUAmax hybrids yielded about 10% to 15% higher yields than the traditional hybrid, especially in drought conditions such as the 50% evapotranspiration level, Xue says. It also showed a higher water-use efficiency of up to 20%, he says.
Xue and his assistant recently presented their information at the recent American Society of Agronomy-Crop Science Society of America-Soil Science Society of America international meeting in Long Beach, Calif.