The historic 2012 drought is far from over, but it has at least subsided in parts of the country.
According to the Palmer Drought Index, a weekly update from the Climate Prediction Center the measures rainfall, temperature and historic data, the majority of the eastern Midwest and Southeast is no longer suffering from drought conditions.
The current map: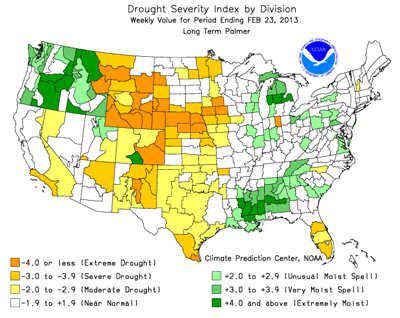 Brad Rippey, USDA meteorologist, reports that 55.82% of the country still in drought. "But we've knocked out the eastern Corn Belt."
While the country at large had some pretty good rains from November through January, we haven't had much relief until this week in the Midwest, he says.
The good news is current drought conditions should not weigh too heavy on corn yields. "There's very little relationship between drought this time of year and output for corn," Rippey says. "We've had other years, like 2000 in Iowa, when there was drought this time of year and the eventual outcome was good. The real difference is what happens in late spring and early summer."
Too Late for Wheat
Unfortunately, extremely dry conditions persist for much of the western Corn Belt and South, from the Dakotas down to Texas. Read more: Drought in Western Corn Belt, Plains Likely to Persist
Wheat-growing areas are among some of the hardest hit, and Joe Glauber, USDA chief economist, reports that the crop may be beyond hope. "Tthe Midwest still has persistent dryness. We could be facing some serious abandonment for hard red wheat spring crop."
Current crop conditions ratings are grim. "Weighted by seed area, the hard-red winter wheat states of Kansas, Nebraska, and Oklahoma have 50% of their wheat crop rated in poor to very poor condition compared to just 10% at this time last year. Spring rains will be especially important in the Great Plains this year where elevated levels of abandonment are expected."
David Cleavinger, a Texas wheat producer, reports on Twitter that lack of rain has them watering wheat. "We need a March blizzard. This patch will go for silage instead of grain."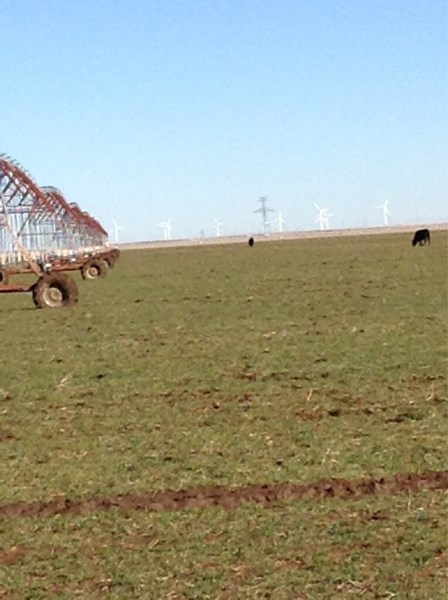 Nationally, wheat production is expected to be 2.1 billion bushels, down 7.4% from 2012. "The decline is attributed to higher abandonment rates and a return to trend yield from last year's record level," Glauber says.
-- AgWeb's Boyce Thompson contributed to this story

What About You?
What are the weather conditions in your area? How does your wheat look? Will your soil be too dry to plant into? Share your report with AgWeb Crop Comments.
---