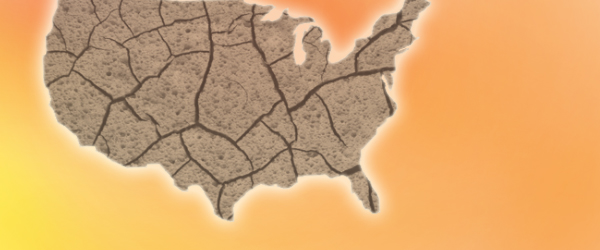 Drought claims will drive up corn and soybean insurance payouts this year, but one insurance executive isn't discouraged.
"Crop insurance is a great business," Evan Greenberg told equity analysts in a July 25 conference call after the company reported first-half earnings. "Over any period of time it has been very good," said Greenberg, chairman and chief executive officer of ACE Limited, a multiline property and casualty insurer that provides commercial and personal insurance through operations in 53 countries. Rain and Hail Agricultural Insurance is one of the ACE companies.
Greenberg said crop insurance earnings are under pressure now, "But they're still projected to be reasonable."
The company's operating income in the first half of 2012 rose from a year earlier, but ACE trimmed its income outlook for the second half because of the higher expected payments to crop insurance policy holders.
Crop insurance profits over several years and geographic diversification help keep this year in perspective.
"The health of the crop insurance industry as a piece of the broader insurance industry, as best we know, is quite good," said Dave Miller, director of research and commodity services at Iowa Farm Bureau. Corn and soybean crop insurance payouts will be high for the 2012 crops, but insurance companies spread their risks across a wide geographic area and broad insurance markets—with backing from the federal government.
Greenberg said his company's provision for crop insurance payouts in the third quarter assumes the highest probable outcome, based on current weather and crop conditions. "We don't expect it is worse than that," he said. "But what we do know is there's still that question: Could it be worse? No one can predict the weather."
Greenberg declined to estimate the insurance industry's potential payments on crop insurance this year. "It's way too early to know," he said. "We have no idea."
Different States at Risk
This year producers and insurers are dealing mainly with major crop damage from drought in the Midwest. Last year, they faced floods, drought, tropical storm damage, and tornado losses in other regions.
Last year, the ratio of claims paid to premiums paid reached 0.9 on a national scale, reports USDA's Risk Management Agency, which manages crop insurance operations for the Federal Crop Insurance Corp. Federal law requires an expected national loss ratio of no more than 1.0, meaning that the amount of premiums at least equals claims paid.
Some states hit hard by drought this year reported low claims relative to premiums last year. The 2011 crop insurance ratio of claims to premiums was only 0.58 in Indiana, 0.28 in Iowa, and 0.44 in Illinois.
States hit hard by weather last year ran claim-to-premium ratios as high as 2.36 in drought-stricken Texas, 1.55 in flooded North Dakota, and 2.77 in storm-ravaged Vermont. Some regions that reported big claims last year are in relatively good shape this year.
In 2011, more than 2 million policies for various types and levels of crop insurance covered more than 265 million acres. Growers paid premiums of nearly $12 billion and insurance paid out $10.8 billion in claims.
Nearly 90% of Iowa's corn and soybean acres are covered by multiple peril crop insurance, noted William Edwards, Iowa State University extension economist, in comments this month on the Ag Decision Maker website. Of the insured acres, 90% are covered by revenue protection insurance policies.
"Yield losses will be paid at a rate equal to the average CME futures price during the month of October, if it exceeds the average February price of $5.68 for corn (December contract) or $12.55 for soybeans (November contract)," wrote Edwards.
Based on the payment guidelines, the potential claims multiply into the billions quickly.
As of July 23, FCIC reported indemnities of $547 million for 2012. Producers have filed some claims resulting from the drought, and adjustors are beginning to verify claims, says one RMA source. Claims and data go to the insurance companies, which report to RMA. Now is much too early in the season to project claims, said the RMA source. Damage levels typically vary widely across a given state, and weather can still be a big factor in crop prospects.
FCIC provides part of the reinsurance coverage for companies that write policies for growers.
American Financial Group said in its 2011 financial report that it typically reinsures 15% to 25% of its gross written premium with FCIC. Last year, it reinsured 52.5% of premiums not reinsured by the FCIC in the private market, and the company purchased stop-loss protection for the rest of its crop insurance business. AFG said it expected similar levels of reinsurance for 2012.
RMA Sets Terms, Approves Companies
RMA lists 16 companies as insurers that have signed cooperative agreements. Those agreement describe the terms under which FCIC provides reinsurance and subsidies on eligible crop insurance contracts sold by the insurance companies. To reach such an agreement with FCIC, a company must meet financial standards.
RMA sets the policy terms and conditions and establishes rates. It also revises some terms. For instance, last year RMA revised the premium rates for corn and soybeans. The agency noted that the crop insurance loss ratio had consistently been below 1.0. RMA said when it announced the corn and soybean revisions that since 1994, rising participation shifted the mix of insured growers and the loss ratio declined.
And in a July 23 bulletin, RMA administrator William Murphy said accrual of interest on unpaid spring crop insurance premium is deferred 30 days from the premium due date specified in the 2008 farm bill. For policies with a premium billing date of Aug. 15, interest on any unpaid spring crop insurance premium will not start until Nov. 1.
"Farmers and ranchers are struggling through widespread severe drought conditions in many parts of the nation, causing catastrophic damage to crops," wrote Murphy. He noted concerns about the requirement for producers to pay spring crop insurance premiums to avoid interest when those producers have not received their crop insurance indemnities. RMA also deferred collection of unpaid producer premiums from participating insurance companies until Oct. 31.
For More Information
Read more news about the 2012 drought.
 
---