New regulation carries $500 fine for wasting water while new UC-Davis study predicts $1.5 billion in farm losses from the drought.
California's drought troubles just got more personal for millions of California residents.
The State Water Resources Control Board yesterday approved an emergency regulation that carries a $500 per-day fine if Californians waste water outdoors.
The state water agency said the new regulation is designed to ensure water agencies, their customers and state residents increase water conservation in urban settings. 
Under the conservation regulation, which goes into effect Aug. 1, all Californians will be expected to stop:
• washing down driveways and sidewalks;
• watering of outdoor landscapes that causes excess runoff;
• using a hose to wash a motor vehicle, unless the hose is fitted with a shut-off nozzle;
• using potable water in a fountain or decorative water feature, unless the water is recirculated.
Most Californians use more water outdoors than indoors, according to the water agency. In some areas, 50% or more of daily water use is for lawns and outdoor landscaping.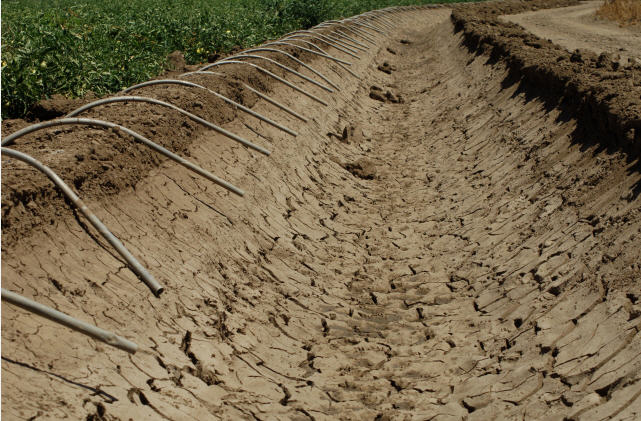 A new study from UC-Davis forecasts California's drought will cause losses of $810 million in crop revenue and $203 million in dairy and other livestock value, plus additional groundwater pumping costs of $454 million. 
---
Yesterday's emergency regulation announcement comes as California endures its third-driest year in 106 years of record-keeping. It also closely follows the July 15 release of a sobering new study from the University of California-Davis Center for Watershed Sciences. 
The study estimates the drought's impact on California could include the loss of 17,100 jobs and $2.2 billion in economic damage, including $1.5 billion in direct costs to the state's agriculture sector.
That report shows that groundwater reserves are helping California agriculture survive its worst drought in decades. But the nation's No. 1 farm state faces serious challenges if it continues to deplete those groundwater resources.
The UC Davis study found that the drought – the third most severe on record – is responsible for the greatest water loss ever seen in California agriculture, with river water for Central Valley farms reduced by about one-third. Groundwater pumping is expected to replace most river water losses, with some areas more than doubling their pumping rate over the previous year, the study said. More than 80% of this replacement pumping occurs in the San Joaquin Valley and Tulare Basin.
The study was conducted by Richard Howitt, Josue Medillin-Azuara, Duncan MacEwan and Jay Lund.
According to the study's authors, the resulting net water shortage of 1.6 million acre-feet will cause losses of $810 million in crop revenue and $203 million in dairy and other livestock value, plus additional groundwater pumping costs of $454 million. These direct costs to agriculture total $1.5 billion. The total statewide economic cost of the 2014 drought is $2.2 billion, with a total loss of 17,100 seasonal, part-time, and full-time jobs.
"Statistically, the drought is likely to continue through 2015 – regardless of El Niño conditions," say Howitt and his team. "If the drought continues, groundwater substitution will remain the primary response to surface water shortage. But the ability to pump groundwater will lessen and pumping costs will climb as water levels fall." 
The release of the UC-Davis study drew a quick response from the California Farm Bureau Federation (CFBF). 
"One of the saddest things about the losses caused by the drought is that they could have been prevented," says CFBF President Paul Wenger. "California has spent 35 years pursuing a conservation-only strategy that has proven disastrous. When we last built a new reservoir to capture rain or snowmelt, in the late 1970s, California's population was 23 million. Now, we have more than 38 million residents, on the way to 44.3 million by 2030. We must build additional and expanded water storage if we are going to be prepared to handle drought periods, to accommodate population growth and capture the warmer, flashier storm runoff linked to climate change."
Pop superstar Lady Gaga has released a Public Service Announcement asking Californians to save water during the drought.
---
California's drought also has drawn the attention of international pop superstar and five-time Grammy winner Lady Gaga, who recently shot a musical video at Hearst Castle, on California's Central Coast.
In partnership with the State of California's drought awareness program Save Our Water, Lady Gaga has released a Public Service Announcement (PSA) asking Californians to join the effort and take extraordinary measures to save water during the drought. The PSA is available on SaveOurWater.com, a new site designed to help Californians find ways to conserve at home and at work every day.