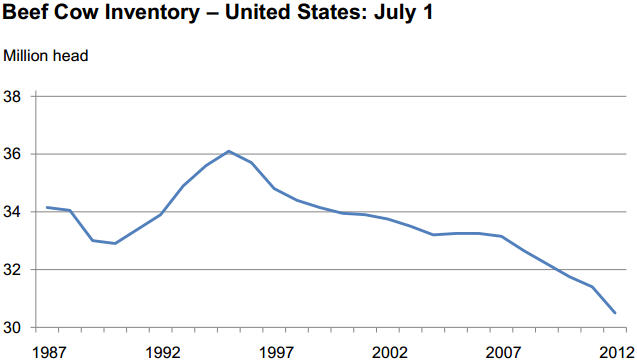 What was anticipated to be a great year for cattle producers has been dampened by Mother Nature, but not in the form of rain. Prices for cattle and beef are declining as higher input costs increase breakevens and reduce margins. University of Missouri economists Ron Plain and Scott Brown report that the price of 600-650 pound feeder steers has dropped $30/cwt in just four weeks.
The latest USDA midyear cattle inventory report confirms a continued decline in cattle numbers. Drought is the main culprit behind the slowdown of expansion of cattle herds but there are other challenges facing pockets of producers.
Wildfires continue to flare up in many states forcing livestock evacuations and increasing livestock death losses and injuries. For producers evacuated, there are delays gaining access to ranches to check on cattle and herds have become commingled with other cattle from different ranches. Frank Loschke with Cattle-Exchange, an online cattle buying and selling Web site, says that he received some calls from producers in north central Nebraska impacted by wildfires that are burning tens of thousands of acres in that state. They are waiting for fires to be contained so they can check on cattle.
The extreme heat and drought has also limited feed supplies, and some cattle sale barns are reporting limited to no buyers, says Loschke. Producers are having to expand the search for buyers beyond the salebarn to find buyers with access to feed and forage. In some areas, pockets of rain offers some relief, but not enough to repair the damage done from the current drought.