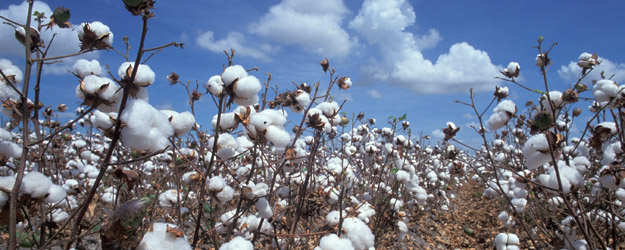 Cotton production in Australia is set to plummet as much as 50 percent next season as drought curbs water supply in the world's third-biggest exporter, according to growers and shippers.
Output may be between 2 million and 2.5 million bales in 2014-2015 from about 4 million bales this year, according to Cotton Australia, the Sydney-based producers' group. Production may total about 2.25 million bales, according to the Australian Cotton Shippers Association, which promotes exports. An Australian bale weighs 227 kilograms (500 pounds).
Cotton futures slumped 24 percent this year and are the biggest losers in the Bloomberg Commodity Spot Index as output in the U.S., the largest exporter, is poised to climb, adding to record global reserves. Australian farmers may plant less after a record drought in Queensland and dry conditions in parts of New South Wales, the biggest producer, according to Cotton Australia Chief Executive Officer Adam Kay.
"Unless we get some pretty serious rainfall in the next two to three months, we're going to see a reduction in area due to lack of water," Kay said in an interview on the Gold Coast yesterday, giving the crop estimates for this year and next. "Dryland producers would probably be a little nervous about the price and would be looking at the price for small grains and doing the gross margins comparisons."
---
Strong Corn Demand Ahead
---
Lower Prices
Cotton fell to 62.02 cents on ICE Futures U.S. on Aug. 1, the lowest for a most-active contract since October 2009, before capping a 13th week of losses, the longest decline since at least 1959, according to data compiled by Bloomberg. The fiber traded at 64.17 cents at 6:53 a.m. in New York. Dryland cotton refers to crops without irrigation that rely on rainfall.
"It's been very dry out here, a lot of areas are dry," Jonathan Burrell, a grower from Dirranbandi in southern Queensland, said in an interview today. While his cotton planting usually covers nearly 1,500 acres a year, it will be closer to 300 acres in 2014-2015, he said.
"We've had very low water-flow levels over the last 12 months," said Burrell, who's president of the Dirranbandi Cotton Growers Association. In that region, plantings of cotton may decline by more than half, he said.
The predicted harvest would be the smallest since 2009-2010, when output was less than 2 million bales, according to Cotton Australia figures. Output fell 49.8 percent in 2007-2008 and 54 percent in 2006-2007 on drought, the data show.
No Rain
About 75 percent of Queensland is in drought, near the record 79 percent seen in March, according to the state government. Most of the state recorded little or no rain in July, according to the Bureau of Meteorology. New South Wales had its driest July since 2002, according to the weather bureau.
Australia is on watch for an El Nino, which can bring below-average rain over southern and eastern inland regions, the bureau said on July 29. There's a 50 percent chance of the weather pattern this year, with the majority of models predicting the event is likely for spring, which starts in September, it said. Australian farmers plant cotton in spring.
Australia's cotton exports will probably drop 11 percent to 870,000 metric tons in the year started July 1, the Australian Bureau of Agricultural and Resource Economics and Sciences estimated in June. That's the equivalent of 3.8 million bales. The Canberra-based bureau estimated output will decline 9.9 percent 820,000 tons, or about 3.6 million bales. 
U.S. Crop
The U.S. harvest may jump 33 percent to 17.2 million bales of 480 pounds each in the year started Aug. 1, Morgan Stanley estimates. Farmers in India, the second-biggest grower, are expanding production as much as 2.6 percent to 40 million bales of 375 pounds each in the year starting Oct. 1, according to B.K. Mishra, chairman of the Cotton Corp. of India.
By 2015, world inventories will climb to an all-time high, boosted by record reserves in China, the biggest user and importer, according to the U.S. Department of Agriculture. The agency predicts Australian production will drop 34 percent to 2.7 million 480-pound bales in 2014-2015.
"Our estimate is based on a continuation of dry conditions," Gordon Cherry, a director at the Australian Cotton Shippers Association, said in an interview yesterday. "We could lose some more acres if prices weaken further."
---
Want more? AgWeb readers are sharing fresh marketing insights every day. Click here to join the conversation, or to start your own.