The National Drought Monitor reflects beneficial precip in the form of "wet snow" across the Northern Plains, leading to minor improvement in southeast North Dakota. Meanwhile, few changes were noted in the Southern Plains after several weeks of improvement.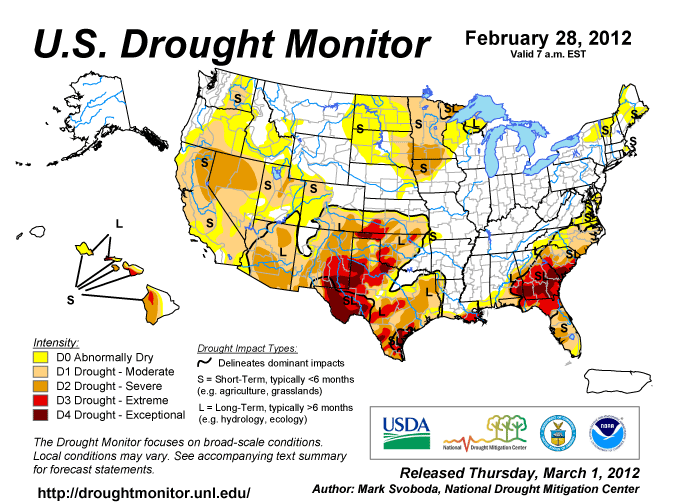 For the Southern Plains, the monitor notes, "The tap turned off across all of the southern Plains and Louisiana as well last week, leading to few changes after several weeks of improvement. The only change of note is a slight expansion of D4 in the Big Bend region of west Texas. Most of the region warmed up as well, posting above-normal readings accompanied by much windier weather of late."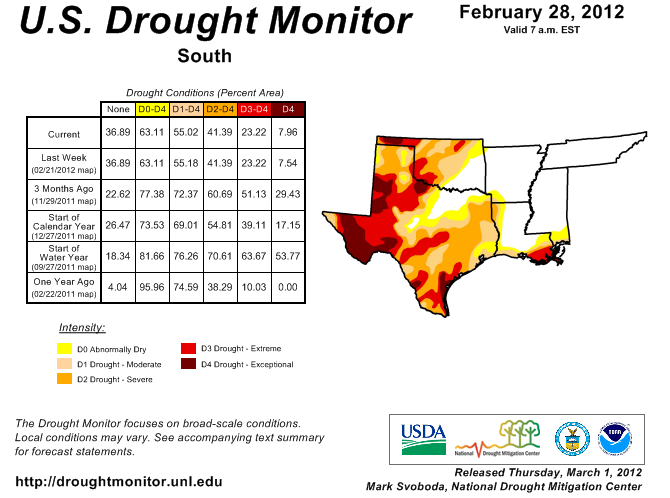 In its outlook for March 1 through 5, the forecast calls for a good chance of heavy rains across parts of the Southeast, particularly northern Alabama, northern Georgia and the Carolinas. "Florida and other parts across the coastal Gulf Coast regions can also expect more modest, normal-like totals for this time of year. The Pacific Northwest remains in its active pattern, which may also be shared across the Sierra-Nevadas and the Wasatch Range in Utah as well," it notes. "Temperatures are expected to be below normal for most of the West over this time period while most everyone else east of the Rockies can expect above-normal readings except for the northern Great Lakes region and into Minnesota, where cooler temperatures should prevail."
For March 6 through 10, the Climate Prediction Center outlook favors another wet period across the Pacific Northwest. "The Southwest and Southern Plains don't look as good during this period, with below-normal precipitation being most likely," it adds. "Temperatures across most of the Intermountain West and coastal Pacific states are expected to be below normal. The eastern half of the country from Texas to the Northeast and Southeast is looking at good chances for above-normal temperatures."
---