The National Drought Monitor reports that in the Southern Plains, preipation was markedly varied. "Very heavy precipitation fell on the northern and eastern reaches of the areas experiencing dryness and drought while, in contrast, little or none was recorded from central Texas northward and westward through southwestern Oklahoma, the southern Texas Panhandle, and the High Plains. Other areas received light to moderate precipitation," the monitor explains.
The monitor says that D3 and D4 conditions remain in east-central Texas, where 6- to 12-month precipitation shortages persisted. But farther east, the monitor says "significant drought improvement was noted with only a small part of northwestern Louisiana and adjacent Texas remaining in D3."
Central and eastern Kansas and a good portion of northern Oklahoma also benefitted from heavy precip. "Conditions improved enough to justify 2-category drought classification reductions in this wettest area, generally to D1. Here, 6-month totals are now above normal. Most other areas improved a single category to D1 or D2," the monitor elaborated.
Central and southern Texas received moderate rains, which lead to "a broken pattern of 1-category improvments."
The Northern Plains benefitted from between 0.5 and 2 inches of precip -- mostly snow -- in central and southern sections of Nebraska and Iowa, with the heaviest amount recorded in southeast Nebraska. As a result, dryness was mostly eliminated for this region. One-category improvements were also seen in other areas of Nebraska.
The monitor explains that "Very little, if any, precipitation fell farther north through the remainder of the dry areas, generally leaving dryness and drought unchanged. However, degradations to D0 or D1 were introduced in a few parts of South Dakota."
Of note, the monitor says the last six months brought less than half of normal precipitation to most of Minnesota and adjacent sections of Iowa and South Dakota.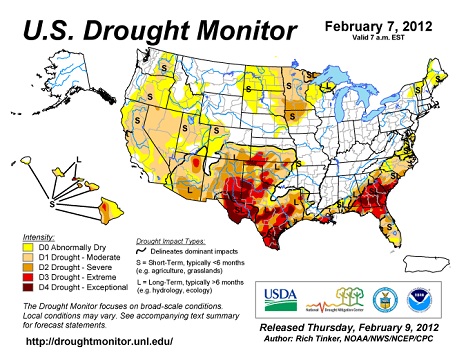 ---