For the contiguous 48 states, the U.S. Drought Monitor showed 37.9% of the area in moderate drought or worse, compared with 38% last week. But monitor reflects improvement in the Corn Belt, while the drought continues to intensify in the Southern Plains.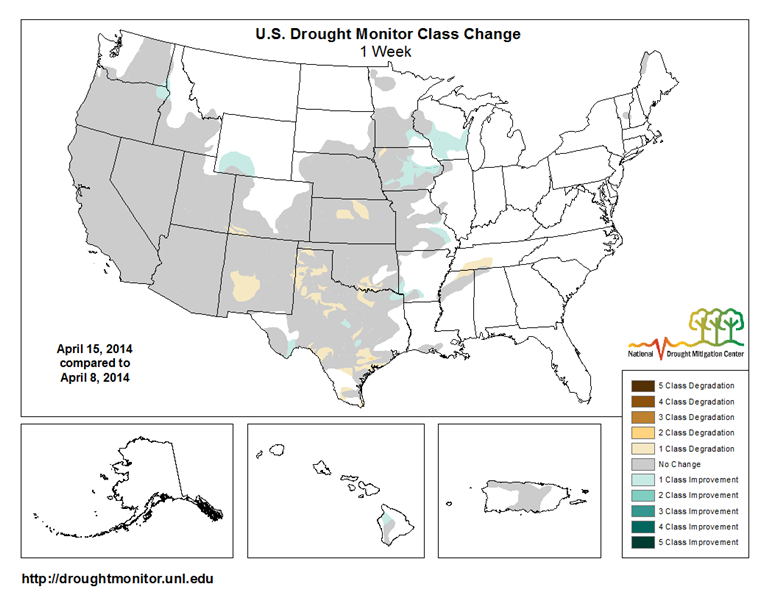 The monitor notes, "Portions of Nebraska and eastern Kansas saw a mix of thunderstorms, rain, and wet snow, but this was not enough to show improvements. The drought intensity increased to D3 over central Kansas while D2 was expanded into more of eastern Kansas... The dryness in the Texas panhandle allowed for D4 expansion this week. In central Texas, D2 was also expanded while an area of D3 was improved slightly. Dryness in southern Texas also warranted the expansion and intensification of drought, with D1 and D2 expanding. Another round of precipitation in the Big Bend of Texas allowed for D0 to improve while the extreme areas of northeast Texas also had D0 improve. Southern Oklahoma also had degradation of drought conditions, with D1 and D2 conditions expanding."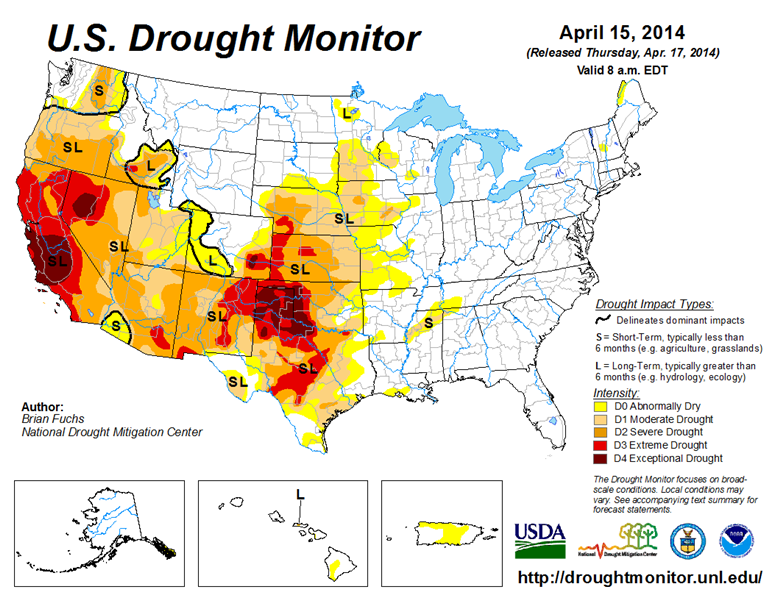 For the Midwest, the monitor states, "A significant rain and snow event in the Midwest brought 2-4 inches of precipitation from Iowa into Wisconsin and Michigan. A full category improvement to the drought depiction was made from eastern Iowa into Wisconsin. For northwest Iowa, the dry pattern continued and D1 conditions were pushed farther to the west. Most of the region was above normal for the week, even with the wild swing in temperatures. The upper Midwest was 2-4 degrees Fahrenheit below normal for the week."
In its outlook for the next week, forecasts say there is a good chance of precipitation from the Plains to the upper Midwest, with more than an inch anticipated from northern Wisconsin into eastern Nebraska and south into Oklahoma and Arkansas. "A storm system will move into the Pacific Northwest, potentially bringing up to 4 inches of rain into portions of Washington. In the southeast from Florida up the Carolinas coast, there is a good opportunity for heavy rain as well. A warming pattern looks to bring above-normal temperatures over much of the United States from the Great Basin into the northeast, and high temperatures will be up to 10-12 degrees Fahrenheit above normal in the Central Plains," it states. "The 6-10 day outlook continues to show higher-than-normal chances for above-normal precipitation over most of the Southern Plains, Midwest, and Pacific Northwest. The best chances for above-normal temperatures are in the middle and eastern sections of the United States, from the Rocky Mountains and to the east. Chances for cooler-than-normal temperatures are greatest along the West Coast."
---