According to the National Drought Monitor, 60.78% of the Midwest is drought-free, compared to 60.74% last week despite substantial rains that fell across large portions of the Midwest. But the rains did make a difference in drought categories, as one-category improvements were made across northern Minnesota (D1 conditions giving way to D0). Minor changes in the direction of improvement were also made in western and southeastern Iowa.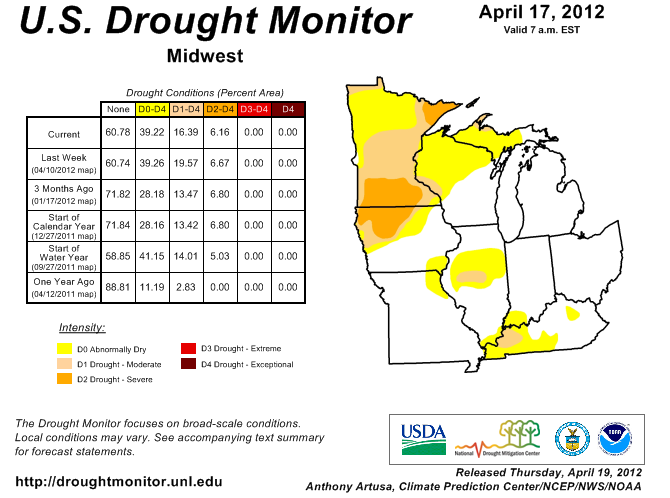 Meanwhile in the Southern Plains, moderate to heavy showers and thunderstorms (1-4 inches, locally heavier) fell across portions of northern and central Oklahoma and southeastern Kansas, related in part to a severe weather outbreak which also affected portions of the Mississippi Valley during the past weekend. "Slight improvements were made in western Oklahoma, though D2 conditions were maintained in extreme southwest parts of the state which are still contending with serious water supply and soil moisture issues," it notes. "Beneficial wetness in western and southern sections of Texas warranted a number of slight alterations to the drought depiction in those areas."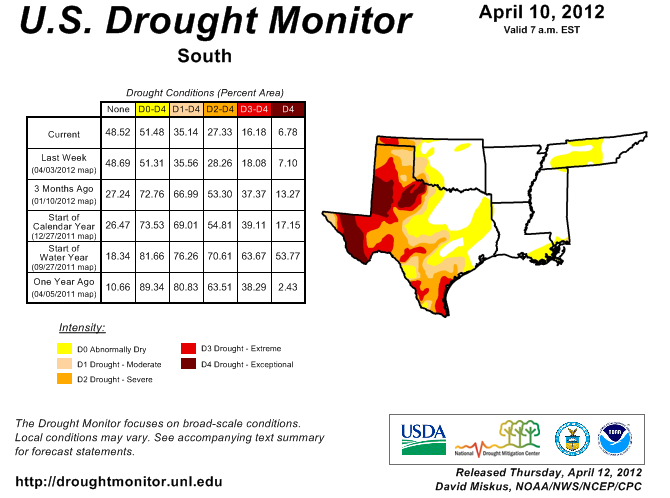 Over the next five days (April 19-23), the monitor notes a frontal system is expected to move across the central and eastern U.S., with an area of low pressure forming along the southern portion of the front over the central Gulf Coast. "As the low pressure center tracks northeastward into the Carolinas and Virginia, it is forecast to intensify. As a result, heavy rain (2.0 to 3.5 inches) is expected to significantly mitigate the current drought situation over the East Coast states," it predicts. "To the northwest, across the Great Lakes and Midwest, moderate to heavy rain (1.5 to 2.0 inches) will help alleviate some of the dryness/drought over the Midwest and upper Great Lakes region. Frontal activity is also forecast for the West Coast, though most of the associated precipitation is likely to fall across the coastal portions of the Pacific Northwest, which are currently not experiencing drought problems."
---