According to the National Drought Monitor, much of Texas -- except northern areas -- experienced substantial drought relief. Widespread 2- to 4-inch totals were noted across southern and western Texas, primarily from May 10-12, allowing for a broad improvement in the drought depiction.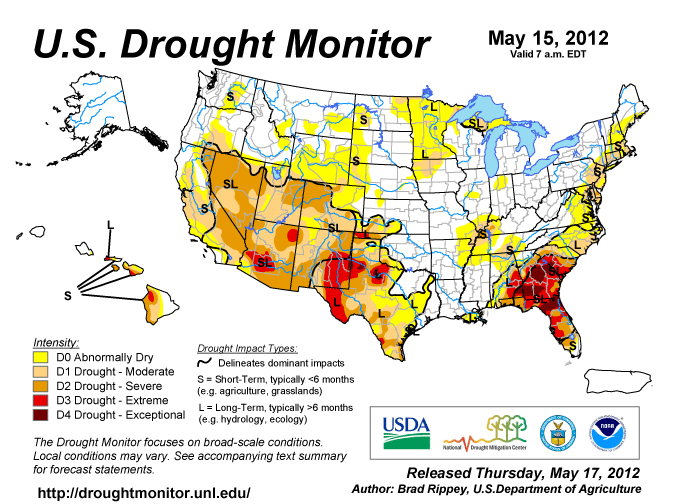 "However, despite some rainfall on the southern High Plains, winter wheat continues to struggle, with 39% of the Texas crop rated in very poor to poor condition on May 13," notes the monitor. "Farther north, some modest expansion of dryness (D0) was observed across the northern and central Plains, as a relatively wet April was followed by a rather dry first half of May."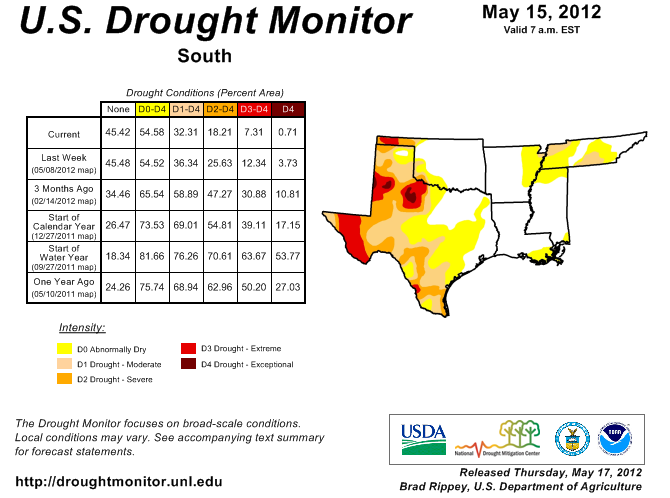 Meanwhile in the Mid-South, "Flash drought" conditions began to develop in an area centered on the lower Ohio Valley and the northernmost portion of the Mississippi Delta. "The term 'flash drought' refers to acute short-term dryness, often aggravated by above-normal temperatures," states the monitor. "A decline in crop conditions has been noted across the Mid-South, with 10% of the Arkansas rice crop rated in very poor to poor condition by May 13, according to USDA. Some of the most significant drought was noted across western Kentucky, where severe drought (D2) expanded. Drought also began to creep northward into southern Illinois."
In the Midwest, the monitor states that mostly dry weather returned, following a period of beneficial rainfall in late April and early May. This resulted in only minor changes to the depiction of dryness (D0) and moderate drought (D1). :"A core area of dryness and drought still existed across the upper Midwest, including most of Minnesota and northern Iowa," it adds.
In its outlook for May 17 through 21, the monitor notes that periods of rain will continue to provide drought relief in the southern Atlantic States, particularly across Florida's peninsula. "In Florida, 5-day rainfall totals could reach 1 to 3 inches, with locally higher amounts. Meanwhile, generally light to moderately heavy showers will spread across the northern and central Plains and the upper Midwest, although most totals will be less than an inch. Elsewhere, mostly dry weather can be expected through May 21 from southern California to the southern Plains, and from the Mid-South into the Ohio Valley," it states.
---