The National Drought Monitor reports that in the South-Central U.S., locally heavy rain across central and eastern drought areas contrasted with unfavorably dry, warm weather elsewhere. As a result, "widespread reductions in drought were made — in some case up to 2 categories — as a result of the heavy rain," according to the monitor. It also notes that reservoirs still remain unfavorably low across northeastern Texas, so despite 2 to 3 inches of rain, only small improvements were made to D0 to D2 in these areas.
On the other hand, above-normal temps and increasing dryness intensified drought conditions in southern and western areas of Texas as well as eastern New Mexico. The Drought Monitor notes, "Precipitation over the past 60 to 90 days has trended well below normal, especially from the Rio Grande Valley northward into southeastern New Mexico and west-central Texas."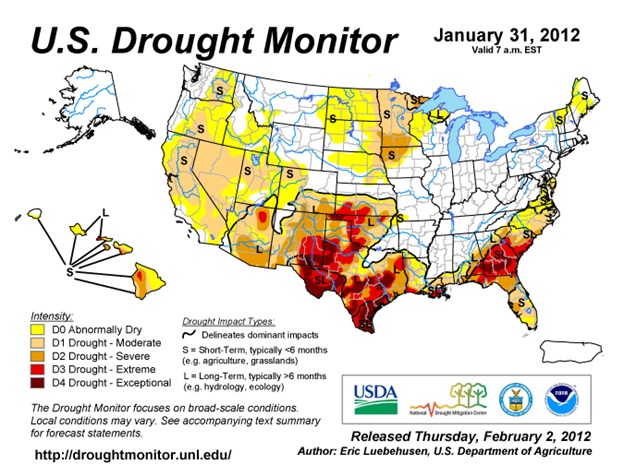 The Central and Northern Plains saw a return of unseasonably warm and dry conditions, which melted protective snow cover and did not improve areas experiencing Abnormal Dryness (D0). The monitor explains, "the three-month Standardized Precipitation Index (SPI) continued to exhibit varying degrees of dryness (D0-D3) from Nebraska northward into the Dakotas and eastern Montana, although shorter-term (30-60 days) precipitation has tallied near to above normal across the northern Great Plains."
The area most protracted by the dryness was North Dakota where D1 was expanded and southeastern parts of South Dakota into north-central Nebraska. The monitor says drought areas of Kansas and Colorado were also dry and warm, though an approaching storm offered chances for improvement.
In the Midwest, the drought area extending from northwest Iowa into Minnesota and Wisconsin experienced dry, unseasonably warm weather the past week. The monitor explains "There were no changes to drought designation, with cold-season impacts still relatively minor." But the monitor continues to say the area will have to be "closely monitored over the upcoming weeks, with the potential for rapid drought intensification if precipitation does not materialize soon."