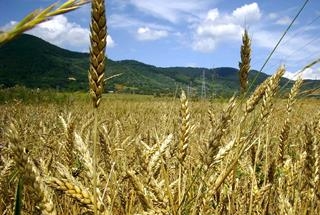 Australia lowered its outlook for wheat production after dry conditions curbed yields in eastern growing regions in the world's fourth-biggest exporter.
Output may total 23.2 million metric tons in 2014-2015 from 24.2 million tons forecast in September, the Australian Bureau of Agricultural and Resource Economics and Sciences said in a report. Production was 27 million tons a year earlier, it said. Harvesting began in October.
Wheat climbed to a five-month high yesterday, extending two months of gains, on concern that freezing temperatures from the U.S. to Russia may curb record worldwide output. Disappointing rain in Australia's winter and spring across most grain regions, combined with reports of frost damage, is weighing on yields, National Australia Bank Ltd. said Nov. 25.
"Prospects for total Australian winter-crop production in 2014-2015 have weakened as a result of drier-than-average seasonal conditions over winter and spring, particularly in Queensland, New South Wales and Victoria," the Canberra-based bureau said in the report. Harvesting of winter crops is largely complete in Queensland and northern New South Wales, it said.
Wheat for March delivery climbed to $6.08 a bushel on the Chicago Board of Trade yesterday, the highest for a most-active contract since June 11. Prices surged 28 percent from a four- year closing low on Sept. 25, erasing this year's losses. Futures fell 0.5 percent to $6.04 at 9:18 a.m. in Singapore.
Low Rainfall
Australia had its hottest spring on record, according to the Bureau of Meteorology. Rainfall between September and November was below-average across most of the country except for Western Australia, according to the weather bureau.
Western Australia's wheat harvest, the country's biggest, may total 8.4 million tons in 2014-2015, unchanged from a September estimate, Abares said. Output in New South Wales, the second-largest producer, is poised to total 6.6 million tons from 7 million tons predicted in September, it said.
Global wheat production is set to climb to a record 719.9 million tons, the U.S. Department of Agriculture estimates. World inventories at the end of 2014-2015 will reach 192.9 million tons, the highest in three years, it said Nov. 10. The agency predicted Australia's wheat harvest at 24 million tons.
Canola production in the world's second-biggest exporter is forecast at 3.3 million tons from 3.4 million tons predicted in September. Barley output may total 7.4 million tons from 7.5 million tons in September, the bureau said. The country was the world's biggest exporter last year.