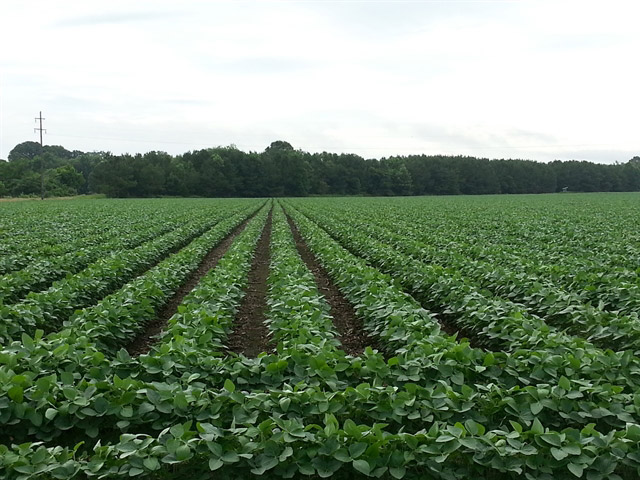 The price rally made switching a no-brainer for farmer Steve Stotz. A week before planting began across the U.S. Midwest last month, Stotz realized he'd earn $100 more per acre with soybeans than with corn. So, the 63-year-old ditched his crop plan and increased soybean acreage by more than a third on land he had previously intended to use for corn.
"I saw an opportunity and took it," Stotz said by telephone from Ida, Michigan, where he and his sons finished planting 2,200 acres on June 2. Half his land is now being used to grow soybeans, up from the 800 acres originally planned, and he's locked in profits on about 40 percent of expected production of that crop. "I've been farming long enough to know that prices change, and you have to be flexible with your plans."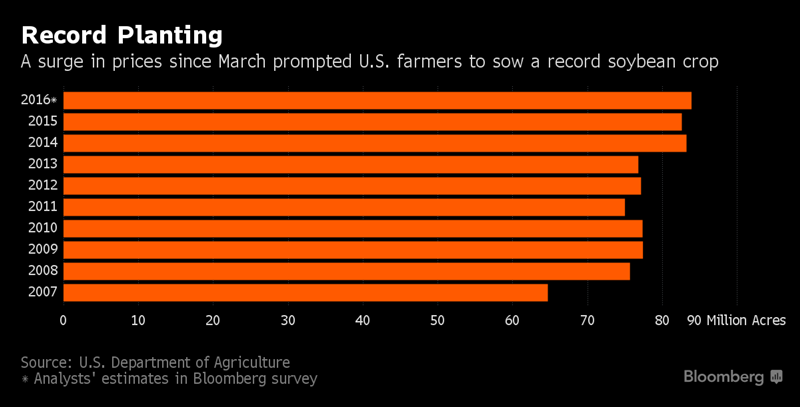 With soybean prices up 30 percent since the end of February, the biggest rally over that period since 1988, Stotz has had plenty of company. In the U.S., the world's largest grower, planted acreage this season was probably the highest ever, according to traders and analysts surveyed by Bloomberg News. As recently as March, the U.S. Department of Agriculture had forecast a decline of 0.5 percent from 2015. The government will update its estimate on Thursday.
The outlook changed in recent months as flooding in Argentina and dry weather in Brazil led to 3.2 percent smaller crops than forecast in those countries, which are the biggest competitors for U.S. exporters. Soybeans, used mostly to feed livestock or to make vegetable oil, jumped to an 23-month high of $11.8625 a bushel on June 13. The USDA already expects global consumption to exceed production for a second straight year before the 2017 harvest, which means there should be more than enough demand to soak up the increased supply from Midwest growers.
Rising Demand
China, the biggest soybean buyer, boosted imports by 16 percent in the eight months ending May 31, USDA data show. U.S. global sales for delivery before Aug. 31 are 4.2 percent ahead of the government's forecast for the year, after improving the past three months.
"The revenue incentive was there for farmers to plant as much as 3.5 million to 5 million more acres, but anything less than a 2 million-acre increase may see prices rebound sharply," said Daniel Basse, the president of Chicago-based researcher AgResource.
Farmers probably sowed a record 83.947 million acres of soybeans, or 1.71 million more than what they intended in March, according to the average of 33 estimates in the Bloomberg survey. Last year, the area planted was 82.65 million acres. About 13 percent of respondents in a Doane Advisory Services survey this month said they ditched their original plans to sow more.
Ample Supply
Stockpiles are still ample, after record global harvests in the year through September 2015 and a drop in American exports that sent prices to a six-year low in November. U.S. inventories on June 1 probably reached 831 million bushels, 33 percent more than a year earlier and the most for that date since 2007, a Bloomberg survey of analysts showed. The USDA will report its tally Thursday.
Before this year's harvest, domestic inventories will be almost twice as large as a year earlier, at 370 million bushels, the government said June 10. But that's 20 percent smaller than the USDA forecast in March, before the production losses in South America boosted demand for U.S. supplies. Corn and wheat inventories on June 1 probably were the highest since 1988, the Bloomberg survey showed.
Bigger Premium
The shift in planting is almost all about price. On the Chicago Board of Trade, the premium for soybeans over corn surged 10 percent from February to May and is even higher now. On June 27, the value of the November soybean contract was 2.8 times the December corn contract, the highest for that date since 2005.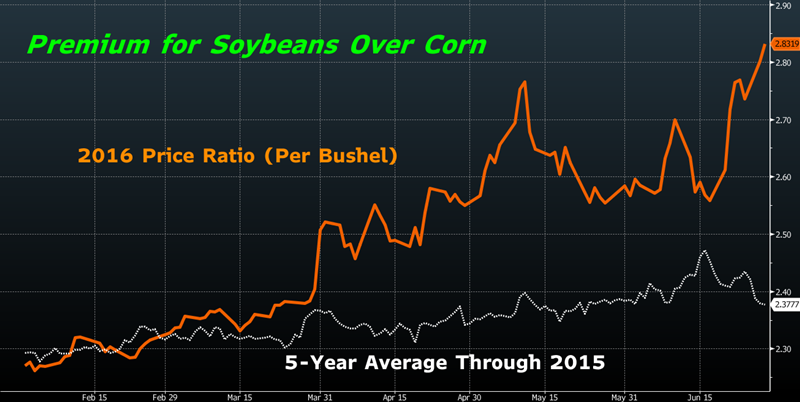 In southwestern Minnesota and northwestern Iowa, farmers probably shifted about 5 percent of their corn acres to soybeans, said Brian Wiertzema, a merchandiser for the Minnesota Soybeans Processors in Brewster, a farmer-owner cooperative that uses about 3.3 million bushels a year.
Indiana farmer Dennis Herrenbruck said he increased his soybean acres 11 percent as prices rose. Rain also led to delays in sowing corn, which reduced yield potential, making soybeans more appealing because they are cheaper to cultivate. He's now got more land devoted to the oilseed than to corn, the first time that's happened since 2003.
"At that point, soybeans were gaining considerably on corn," Herrenbruck, 65, said last week from Evansville, where he planted 493 acres of soybeans and 443 acres of corn. "We were getting to what I would say is past the optimum planting date on corn, so you might as well be planting the beans and hoping for a better yield there with over $200 less in inputs per acre."