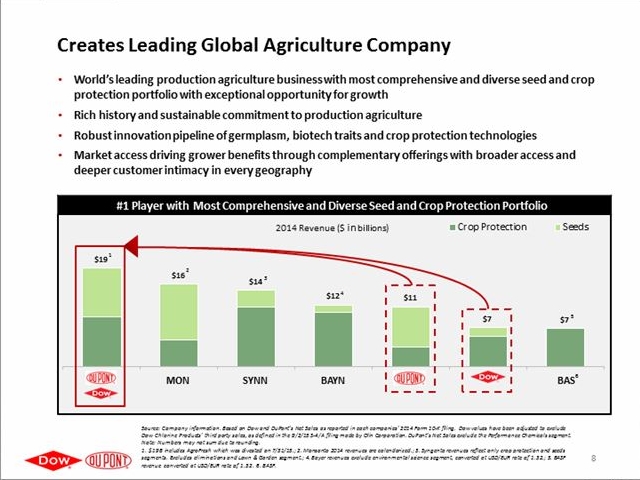 Combined ag company would be largest in world, with seeds, traits, and crop protection. Farm groups say they plan to research deal's potential impact on their members.
DuPont and Dow will merge, with the intention of separating the new $130 billion firm into three separate companies within two years, including a combined agriculture business with $19 billion in pro forma revenue in 2014.
"This is an extraordinary opportunity to deliver long-term, sustainable shareholder value through the combination of two highly complementary global leaders and the creation of three strong, focused, industry-leading businesses," said Edward D. Breen, chairman and chief executive officer of DuPont. "Each of these businesses will be able to allocate capital more effectively, apply its powerful innovation more productively, and extend its value-added products and solutions to more customers worldwide."
The merger announced today will be an all-stock transaction, with the new combined firm named DowDuPont. Once that deal closes in the second half of 2016, DowDuPont will start spinning off three businesses into separate publicly traded companies within 18 to 24 months.
Those include:
agriculture, which includes DuPont Pioneer seed and crop protection products and Dow AgroSciences' global seed and crop chemicals. This combined industrial business had pro forma revenue of $19 billion in 2014.
material science, which includes common building materials like DuPont's Tyvek house wrap and Corian countertops. This combined industrial business had pro forma revenue of $51 billion in 2014.
specialty products, which will incorporate Dow and DuPont's tech-focused product lines in electronics and communications. This combined business had pro forma revenue of $13 billion in 2014.
Overall, the deal is expected to result in an estimated $3 billion in cost savings.
"In agriculture, we will gain significant synergies through seed production cost efficiency, maximizing the R&D programs of the two companies, and through the optimization of our production and supply chain," said Breen on an investor call Friday.
The combination of Dow AgroSciences and DuPont has the potential to reshape the industry. With pro forma revenue of $19 billion in 2014, the new company is larger than Monsanto ($16 billion), Syngenta ($14 billion), Bayer ($12 billion) or BASF ($7 billion).
"We are creating the world's leading agriculture company," Breen said. "By bringing together DuPont's unrivaled market access and industry leading germplasm and breeding capabilities and Dow's strength in traits and crop protection, we will have the most complete portfolio of any ag company."
He said the combined ag company would be half germplasm and traits and half crop protection. On the seed side, brands include Pioneer, Mycogen, and Dow seeds as well as Enlist, Aquamax, and Plenish traits. For crop protection, the portfolio will offer insecticides, herbicides and fungicides.
Given the size and scope of the DuPont/Dow merger, federal regulators will be reviewing the transaction for any antitrust concerns. However, unlike Monsanto's proposed acquisition of Syngenta earlier this year, there appears to be--at least initially--less cause for concern. As a result, Dow and DuPont may be allowed to combine their ag portfolio as-is, without big divestments of business units. 
(See investor slide above to view Dow and DuPont brands in various areas and crops.)
"It would be very limited where there is product overlap in almost all geographies," Breen said on the investor call. "We've been through this. We've analyzed it in detail. It would be very minor if there is any. It's really going to give our end consumer--our farmer--a lot of choice here and a diversity of choice, which is really going to be an advantage for us, market-share wise." 
Still, agriculture organizations plan to look closely at how this mega-merger could affect growers, who are concerned about the impact on seed prices and other input costs.
"As always, we welcome competition and innovation to the industry, while keeping the best interests of soybean growers at the forefront," said Richard Wilkins, president of the American Soybean Association, and a farmer in Greenwood, Del. "ASA looks forward to the opportunity to provide comments to the companies and U.S. regulatory authorities that must approve any merger, and will continue to study how this merger will affect soybean farmers."
The National Corn Growers Association plans to do the same. "With respect to the proposed merger, we anticipate that we will have an opportunity to submit comments regarding the effect this merger may have on agricultural research, innovation, grain marketing, and the competitive pricing of farm inputs," said Chip Bowling, the Maryland farmer who leads the corn growers' group. "We will do all we can to protect farmer interests and preserve an open and competitive marketplace."
Once the initial Dow/DuPont transaction closes, the company will then move to establish three separate publicly traded companies for each of firm's major businesses—ag, material science, and specialty products.
What do you think of a new Dow/DuPont ag company? Do you think this will be good or bad for farmers? Let us know in the comments.