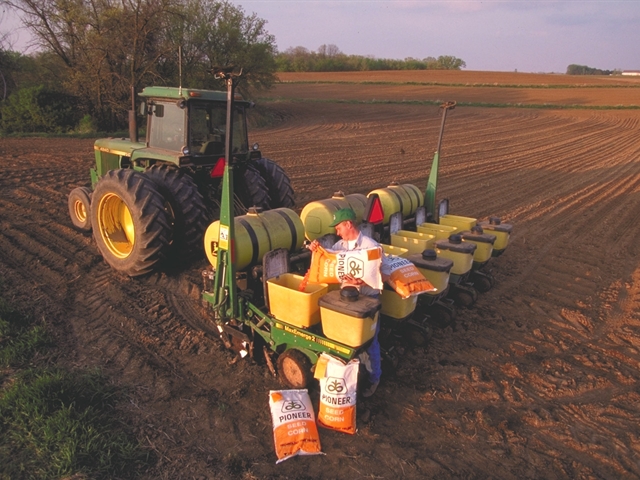 DuPont Co.'s Pioneer seed unit took it on the chin from Monsanto Co. this year, and now salaried employees are taking a hit in the wallet.
DuPont is cutting 2014 bonuses and delaying 2015 salary increases until July 1, according to an internal memo distributed Tuesday, a copy of which was obtained by Bloomberg News. The company saved $175 million from reduced bonuses, with half the reduction coming at the expense of agriculture unit employees, DuPont said in a presentation this week.
"We set our targets and objectives, and our compensation is tied to the achievement of those targets," Chairman and Chief Executive Officer Ellen Kullman said in the memo. "It is important to recognize that in 2014, we did not meet all of our targets."
Operating profit in agriculture, DuPont's biggest business, fell 5.3 percent last year as the Pioneer unit lost market share to Monsanto, which increased operating income 14 percent. Agriculture along with the nutrition unit would be the focus of a smaller DuPont under a plan by activist investor Trian Fund Management to split the company in two.
Most of DuPont's recent success in agriculture has come from selling pesticides, rather than genetically modified seeds, Jeffrey Zekauskas, a New York-based analyst at JPMorgan Chase & Co. said in a Jan. 28 note. DuPont trails in developing second- and third-generation seeds engineered to fight insects and tolerate weed killers, helping Monsanto gain share in North America corn and soybeans and Brazil corn, he said.
More Contraction
"DuPont's agricultural segment in 2015 is likely to experience a second successive year of operating profit contraction," Zekauskas said.
Kullman, whose long-term goal is to increase annual earnings per share by 12 percent, Tuesday posted a 3 percent increase for 2014 and forecast a 5 percent rise this year. She said she'll cut $1.3 billion in costs by the end of 2017, expanding and accelerating an earlier program.
"DuPont is a performance-based culture and our short-term incentive compensation impact reflects that," Dan Turner, a spokesman for the Wilmington, Delaware-based company said in an e-mail Thursday. "Like many companies, we must plan for challenging macro and industry conditions in the coming year, and will calibrate compensation in the near-term accordingly."
The delay in pay increases is intended to "maintain our strong position" amid uncertain macroeconomic conditions, challenging agriculture markets and a stronger U.S. dollar relative to other currencies, Kullman said in the memo.
'Difficult Challenges'
"We face difficult challenges every year and we need to work effectively and efficiently to overcome them," Kullman said. "'Your organization's leadership will have more to share with you on these difficult but prudent decisions."
Union members aren't affected by the compensation cuts, said Jim Briggs, a United Steel Workers representative for DuPont employees at plants in Buffalo and Niagara Falls, New York.
"It seems that DuPont in the last few months has taken the approach of saving money any way they can," Briggs said by phone. "I don't think in the long term it's going to improve production or safety in the plants."
DuPont said in October it lost between 1 and 2 points of market share in the North American corn and soy sector. JPMorgan's Zekauskas said Monsanto gained what DuPont lost.
Trian, co-founded by Nelson Peltz, says the company can cut as much as $4 billion in costs. The New York-based investor is seeking four board seats and argues the 212-year-old company would be better managed if it were broken up.
While DuPont already plans this year to spin off the performance chemicals business, renamed Chemours, Trian advocates the rest of the company be split in two. One part would include the faster-growing agriculture and nutrition units and another would encompass more cyclical businesses.
Stock Buybacks
Kullman is cutting costs as she repurchases more of the company's stock to improve per-share earnings. A dividend of about $4 billion from the anticipated spinoff of Chemours will be used to buy back DuPont shares, the company said Tuesday. The buybacks would be in addition to a $5 billion repurchase program announced a year ago.
Trian held a 2.7 percent stake in DuPont at the end of last year. DuPont shareholders will vote to select the board at the company's annual meeting in April.