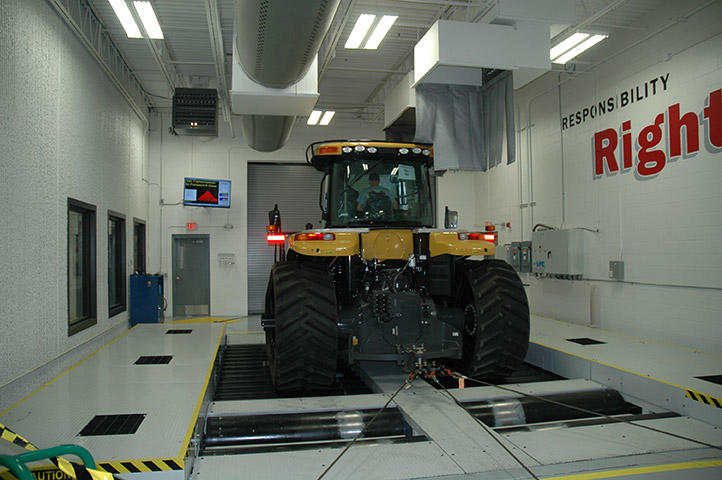 As part of its three-year, $42 million upgrade of its Jackson, Minn., tractor assembly plant, AGCO has installed and equipped an industry leading dyno-test lab. Each tractor that comes off the line will be dyno-tested to assure field ready quality, says Tony Hartzburg, AGCO's director of strategic projects.
The full test of each tractor will take about an hour, but it will allow technicians to catch any problems—from loose electrical connections to leaky hydraulic hose fittings—and fix them before the tractor is approved, he says.
Each tractor will undergo three tests:
Jounce testing. For this test, the rear wheels or axle (or the front axle of articulated tractors) are positioned over jounce plates that move up and down, rocking the tractor. Each tractor is rocked at various combinations of speed and intensity to simulate rough field conditions. "All hoses, fittings and electrical connections are monitored during the test to verify they meet strict AGCO quality standards," Hartzburg says. After the test, lights, wipers and other switches are manually verified that they are operational.
PTO dynamometer testing. This test plots the torque and horsepower of the tractor across the RPM range. Tractors are tested under load while sensors measure torque and speed. "The test operator sets the engine at full throttle, and the test automatically adjusts the load on the PTO shaft, simulating on-farm and in-the-field conditions from everyday to extreme," Hartzburg explains.
Chassis dynamometer testing. It tests steering, braking and suspension systems as well as transmission shifting quality and engine performance. In this test, the tractor is driven over the "treadmill" multiroll bed recessed into the floor. The tractor is then secured with cables both fore and aft, and the machine is then run through its paces. The transmission is tested all the way from creep speed through road gear. The dyno-testing is AGCO's fifth "quality gate" test of the tractor assembly process. The first four quality gates are conducted during the tractor assembly process. Each tractor must pass inspection in each successive gate before proceeding through assembly. The Dyno test is the final test before the tractor is deemed ready for dealer delivery.
See more in this video: