An adequate amount of seed corn is available to plant in 2013, but the popular hybrids will be in tight supply.
In the future, you may look back on 2013 as the year you were happy to get your second or even third choice of corn hybrids. That's because industry leaders say many of the most popular hybrids will be available in only limited supplies as a result of the historic 2012 drought.
Corn hybrids hit hardest by drought this past summer were the 105-day and later maturity ones, notes Kent Schulze, an associate with Minnesota-based Cornland Consulting. Schulze estimates that 90% of the total U.S. seed corn crop was grown this year in drought-impacted areas.
"Even the best-irrigated fields in those droughty areas will come up 10% to 20% off normal yields, and I expect dryland (seed corn) acres will be worse," Schulze says.
Heat was also a big driver in seed corn production this year, according to Dave Snedden, North America row crops manufacturing lead for Monsanto. He says prolonged high temperatures for multiple days and nights during the pollination period were just as hard on seed corn crops as the lack of moisture. To mitigate such risks, Snedden says Monsanto spreads its seed corn crop acres across the U.S. from east to west and north to south.
"Our seed crops are grown on a mix of soil types and under a variety of agronomic conditions," adds Dan Case, DuPont Pioneer supply planning manager.
More than enough.
Seed companies routinely produce more seed than is needed in any given year. Such standard plans were in place this year.
"We planned for twice the number of acres we actually sold corn for in 2011," says Scott Beck, vice president of Beck's Hybrids. He adds the company has an adequate supply of its leading hybrids going into 2013.
Other companies report they also have adequate amounts of seed for farmers to plant next spring, thanks to a combination of carryover seed from previous years, summer production and winter production, explains Craig Newman, chief executive officer for AgReliant Genetics, Westfield, Ind.
Schulze says enough seed corn is available to plant 95 million corn acres in 2013 if companies clean out their warehouses and existing pipeline. "But once you get into the corner of the warehouse, people are going to get their third or fourth choice of hybrids," he contends.
That's not necessarily all bad, he adds, explaining that older seed products in warehouses may have higher germination and overall quality than some of the hybrids from this year.
"Farmers still need to be thinking about selecting hybrids best suited for their ground—hybrids that are solid, stable performers—and planting them in a timely manner," says Chris Garvey, general manager of Mycogen Seeds at Dow AgroSciences.
Winter wonderland.
Seed production now underway in Argentina and Chile will play an important role in boosting the availability of hybrids for U.S. farmers next spring.
Newman estimates winter production will provide between 15% and 20% of the seed corn farmers plant in 2013.
Schulze says increased winter production is contributing to an increase in retail seed prices of 4% to 8% over last year. Pro Farmer estimates seed corn costs will average $95 per acre.
"Stay close to your seed dealer so you know what's going on," Schulze recommends.
Farmers are responding proactively to seed companies' urging to buy seed corn early this year, according to a Farm Journal Pulse survey, a text message poll of farmers and ranchers. When asked when they plan to purchase their seed corn hybrids for the 2013 crop, 85% of the 1,447 producers surveyed replied they will complete their purchases by December 31.
Newman says because seed supplies are so tight he expects 2013 will be a "huge" seed production year. His perspective: "It's going to take us a couple of years to refill the pipeline and get back to some level of normal," he says.
For More Information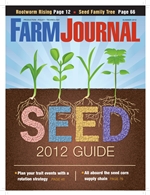 Read more seed-related news in the 2012 Farm Journal Seed Guide