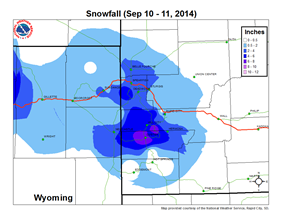 Perhaps Mother Nature has her own ideas about the USDA forecast for record crops this year, judging by the unseasonably cold weather hitting the Midwest.
South Dakota has already gotten a snowfall for the history books this week, when Rapid City was hit by an early storm that dropped as much as 8 to 10 inches of the white stuff. According to the National Weather Service in Rapid City, it represents the earliest recorded snow in the area, based on documents that go back to 1888.
Meanwhile, North Dakota is bracing for a hard freeze tonight as temperatures drop into the 20s and 30s across the western and central parts of the state. "Precautions should be taken to protect sensitive vegetation," the National Weather Service advised.
"We're going to nip some crops tonight for sure," predicted Kevin Buxa, president of Halo Commodities in Fargo.