Make the grade using innovative agronomic practices
While farm fields might look similar to a casual passerby, farmers know the differences can be as vast as the field is big. That's where zone management comes to the rescue—treating each identified yield zone with the agronomic practices best suited to maximize yields. 

For each field and production practice, develop standards to evaluate the efficiency of inputs and yield bumps. Create your own report card to measure what works and what doesn't in your management zones. 

"Zone management is never final; we're always changing and fine-tuning the process," explains Randy Aberle, who farms near Melvin, Ill. "There's no road map; every farmer and field is different."

To earn an A in zone management, you have to continually fine-tune zones to maximize yields, improve stewardship and boost bottom lines.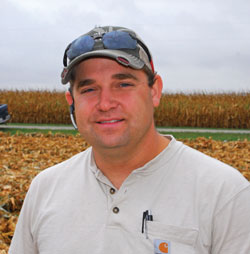 A yield map serves as a final report card to gauge ongoing improvements for Illinois farmer Randy Aberle. 

Aberle has been using zone management on his farm for more than 15 years and continues to see rewards on an annual basis.

"For us, it's about product efficiency," he says. "It's important to put the products where they are needed most to maximize return."  

Farm Journal Associate Field Agronomist Missy Bauer says success is achieved when each zone reaches its full yield potential.

"It comes down to putting the right inputs in the right spots in every single field," Bauer says. "Overall, inputs might average the same, but you'll see an increase in profitability by using inputs correctly."

This concept is related to the four R approach, developed by the fertilizer industry. In the field, farmers need to focus on the four Rs of fertility management: the right product, right rate, right time and right place. 

"Zone management uses the four R approach by putting the right rate in the right place," Bauer says. "By adopting this concept and using zone management, farmers will realize agronomic, environmental and financial benefits."

It's key to apply the four Rs in unison to achieve fertilizer efficiency and environmental stewardship. Putting the concept into motion helps prevent unused nutrients from escaping and getting into water resources. 

"All four concepts have to come together in order to be effective," Bauer explains. "For example, you might have the right place in the field but if you're not getting the right product for the soil, you'll miss the boat on maximizing the impact of the four R approach." 

Set the curve. To earn a high score in zone management, it's essential to evaluate zones and make the proper agronomic adjustments to increase yields. One of the most important decision-making layers is data from properly calibrated, high-quality yield maps. These yield maps provide valuable information to benchmark future zone-management decisions. 

"We use yield maps as our final report card," Aberle explains. "The yield maps help us compare if the agronomic changes we made had any effect on yield."

Planting test strips also provides a benchmark to measure the accuracy of variable-rate prescriptions. Test strips can gauge variable-rate nitrogen, population and other agronomic practices. 

"When we test variable-rate population, we'll run straight-rate strips at the highest rates and lowest rates," Bauer says. "This provides a check point to make any needed adjustments." 

Aberle runs straight-rate strips in a fairly variable area to catch multiple zones to see how they compare. 

"I'll run a high-rate population strip, just to see if I can get a response. If there is a response, then maybe we should push population even further; if not, then we know we're in the sweet spot," he explains.

Confidence to change. Making the proper agronomic adjustments is important when fine-tuning zones. By having a collection of good data, you'll set the curve with the confidence to change agronomic practices. 

"It's important to understand that you can't make big decisions off of a little bit of data," explains Ken Ferrie, Farm Journal Field Agronomist. 

Ferrie encourages farmers to overlay yield maps to show soil types, topography, high-resolution aerial pictures, normalized difference vegetation index, and thermal imagery to provide more information to make zone-management decisions.

"The more years and more layers you can put on top of a field, the more confidence you have about managing your zones," Ferrie says.

It takes time to gather usable data. As Ferrie says, time tells all when managing zones. 

Aberle has collected more than a decade of data, and says that making small agronomic changes makes it easier to identify the cause and effect of various practices.

"Sure, you can make several agronomic changes in a year," Aberle says. "But you have to be careful that you don't change too many things because if you do, you'll begin to wonder which practices actually had effect."  

Adding a new variable to the equation impacts other practices that need to be documented in zones, Ferrie says. For example, irrigation introduces a new thought process to management. 

"When you add irrigation, you're not trying for 110-bu. corn anymore; you're after 200 bu.," Ferrie says.

This yield potential drastically changes the level of nitrogen and allows for later application.

"With added water supply, you will see an increase in population, which in turn increases your rate per acre of nitrogen," Ferrie says.

Dirty boots. No computer can beat boots-on-the-ground experience. This statement is spot on when implementing zone management.

Through the years, there's been an increase in the number of computer programs that serve to evaluate and  generate management zones.

"Computer-generated programs take data points from soil tests or yield maps, weigh each point, evaluate neighboring points and run averages to divide up the management zones," Ferrie says.

To avoid an unsatisfactory score, it's important to not solely rely on computer-generated information to create zones. Use personal experience and knowledge to achieve the most precise snapshot of your ground that responds to your hands-on management with higher yields. 

If you need to outsource resources, work with an agronomic consultant to help construct accurate management zones using raw data points and experience and knowledge of the ground. 

"There's no replacement for boots-on-the-ground experience," Ferrie says. "Just like there's no replacement for working through raw data points to make management zones, rather than a computer doing it." 

Dirty boots and pushing the envelope on variable-rate prescriptions has proved rewarding for Aberle. 

"We first began using variable-rate technology to apply lime, which led us to experiment with variable-rate sidedress nitrogen and plant population," Aberle says. "This has been a process we've done for several years now."

Aberle encourages farmers to step outside of their comfort zone and try something new. 

"You can't be scared to try new things; without trying something new, you'll never know," Aberle says.

The variances in a field might be vast, but with years of data, knowledge and a willingness to think outside the box and try new agronomic practices, managing zones becomes second nature. Set the curve for variable rate and strive for an A on your next zone-management report card.
---
To learn more about how to get started with zone management and see more data from real-life case studies, visit www.agweb.com/InTheZone