Record milk prices and U.S. dairy exports boost profit margins for U.S. dairies.
Despite a recent retreat in milk prices and the production slowdown on dairies in the Upper Midwest, it's going to be a good year for dairy producers.
That's the assessment of dairy economist Bob Cropp of the University of Wisconsin-Madison. Speaking with colleague Mark Richardson in their monthly "Dairy Situation and Outlook podcast, Cropp says this month's decline in milk prices can hardly be called a collapse.
"December Class III prices could drop to $18.50 per cwt., but that would still give us a $21 average price for the year," Cropp says. "Compare that to $17 last year. It's going to be a good year."
Class III prices reached record levels for three months in a row this year, peaking at $24.31 per cwt., reports Cropp. Now at $22.50, they're still higher than they were a year ago.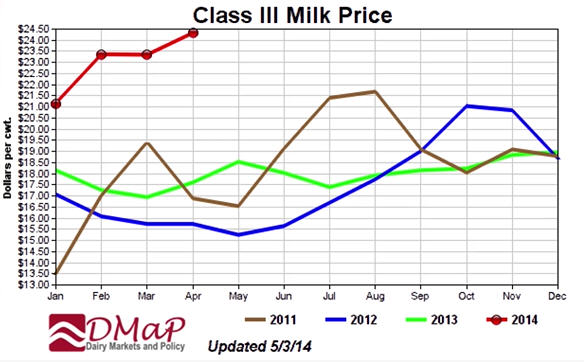 Bolstering that price strength is continued strong demand for dairy products. One important indicator, the Restaurant Performance Index, has recently shown more people are eating their meals outside of their homes, "which ought to be good news for dairy," Stephenson says.
Continued record exports of U.S. dairy products have tightened stocks and helped maintain high prices. Butter has shown particular strength, climbing to $2.16 per pound, with stocks down 30% from last year.
Two bearish factors include the continuing decline in fluid milk demand and in cheese prices. Block and barrel cheese prices dropped below $2 a pound on May 13, after having traded in the $2.25 range. "Those are still strong cheese prices, historically," Cropp adds.
Both dairy economists also point to strong 2014 margins for U.S. dairy producers. Declining corn futures are helping feed costs, although soybean meal and alfalfa prices remain stubbornly high. Cow numbers are up from last year, and "cow slaughter is way lower with these good margins," says Cropp.
Winter's lingering cold has delayed planting of feed crops across the Upper Midwest. That, coupled with feed quality issues from last year, has reduced milk per cow and overall milk production. But Cropp expects per-cow output to pick up as forage planting gets underway in the next few weeks, bringing Midwest dairies a fresh supply of feed.
Both he and Richardson expressed surprise at the strong production numbers for Texas (up 8.7%) and South Dakota (up 4.9%) reported in USDA's April 2014 Milk Production report, released May 19. The Lone Star State has likely added more cows to its dairy herds, while South Dakota has grown its dairy industry recently with an aggressive recruitment effort. Overall, U.S. milk production grew by 1% in April over year-earlier levels.
Looking ahead, Cropp expects to see continued increases in U.S. dairy cow numbers and in production per cow. USDA has forecast an increase of nearly 11 billion pounds of milk from the U.S. over this year and next, he notes. If USDA is right, Cropp and Richardson speculate that surge in milk supply could put downward pressure on prices.
Cropp also foresees record exports of U.S. dairy products again next year.