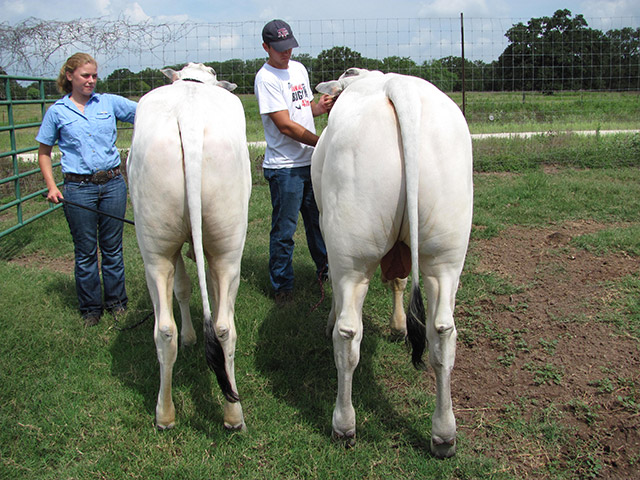 Producers have many genetic tools to advance the productivity and profitability of their cowherds. AI, genomic enhanced EPDs, timed estrus synchronization, embryo transfer and sexed semen are just a few tools producers have to choose from. The newest tool is gene editing.
Gene editing allows producers to select traits they like from a particular breed and add it to their breed of cattle. It means single trait selection can be done without sacrificing production goals.
Since 2008, Recombinetics based in St. Paul, Minn., has been working in multiple areas, including beef and dairy cattle, swine, sheep, goats and other species.
One particular project is to remove horns from cattle, which has caught a lot of attention because it could eliminate the practice of dehorning—which animal rights activists have been against for years.
The application of genetic dehorning would be relevant across the cattle industry, says Scott Fahrenkrug, CEO, Recombinetics and former molecular geneticist for the University of Minnesota and USDA Meat Animal Research Center.
"We're really trying to optimize genetic dehorning, so we can move as quickly as possible for those who want to get polled at a high enough frequency that we make dehorning go away," Fahrenkrug adds.
The dairy industry has expressed the most interest for breeding horns out of Holsteins. Hereford breeders also see the value in turning horned animals into genetic polls without crossing to a polled animal.
"It is really an important moment for this accelerated breeding technology," Fahrenkrug says. "Its impact will be on the scale of AI—but it will be even faster and more precise."
Gene editing does not create new genes or alleles, and it is also not a transgenic animal.
"The result we get is identical to cross breeding, except you don't have to put the back crossing into the program," Fahrenkrug says.
Proof of concept with any new technology is important, and Recombinetics has produced several different types of gene-edited animals, including dehorned cattle, disease resilient pigs and swine for the biomedical market.
Additionally, the company worked with reproductive biologists at Texas A&M University to produce a Nellore bull with increased muscle production.

The myostatin gene in Nellore was edited to produce a protein identical to that produced by Belgian Blue cattle, corresponding to a natural variant which results in dramatic improvements in retail product yield. The result was a Nellore with much larger muscle mass.
The segregation of this trait in breeding is being analyzed through AI, using semen from the Nellore bull to determine what the impact might be in a Nellore population.
Not only can gene editing help increase productivity of cattle, but there is also the potential to fix genetic defects that occur from line breeding in purebreds.
"It is genetic repair, but all we're really doing is restoring the sequence to what is normal," Fahrenkrug says.
For instance, tibia hemimelia, or TH, a defect in Shorthorn and Maine Anjou breeds could be eliminated through gene repair. It could even help salvage the popular genetics of the Angus bull Precision 1680 that was linked to arthrogryposis multiplex defect, also known as Curly Calf.
"You can rescue a genetic line by getting rid of those recessive lethals that are segregating in the population," Fahrenkrug says.
The timeline for when gene edited cattle will be available for breeding is yet to be determined. Regulators from the Food and Drug Administration (FDA) and USDA will have the final say.
Thus far, USDA has ruled several gene-edited plant products don't need to be regulated because they are not GMOs. However, as for transgenic animals, there is a danger that the FDA might consider gene-edited animals a drug.

Fahrenkrug finds the reasoning for this hard to comprehend, especially when you consider a similar technique called gene therapy can be used to cure disease in people—who are not then themselves considered to be a drug and are sent home to their families.
If agriculture producers are going to feed 9 billion people by 2050, there is no way producers can rely solely on traditional breeding techniques, he adds.
"We can do it the old fashion way and take generations to improve performance, quality, welfare and sustainability—or we can rapidly breed with editing while maintaining the integrity of our best genetics," Fahrenkrug says.
"Gene editing is simply a breeding and genetics technique," Fahrenkrug adds. "It is not transgenesis, it is not Frankenfood. The outcomes of our precise and accelerated breeding are identical to those you would get traditionally, but without investing lots of money and decades of work before delivering."