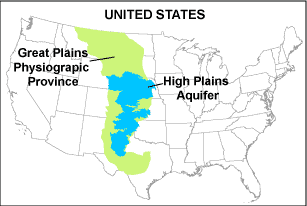 Farmers have been resistant to using a two-year-old law that allows them to form groups that can require deep reductions in irrigation from the diminishing and endangered Ogallala Aquifer.
The hope was that if enough Western Kansas farmers pared their water use by at least 20 percent, the aquifer's lifespan could be extended, the Lawrence Journal-World reports. But so far, only one group of 110 farmers, who own 99 square miles in Sheridan and Thomas counties near Colby, has formed.
"We had expectations of it catching on like wildfire," said Tracy Streeter, director of the Kansas Water Office. "In Topeka we would have liked to see more flurry over this. It's going to be a slower process than we thought."
A second group of farmers also attempted to create a so-called LEMA, or Local Enhanced Management Area, in Wichita, Scott, Lane, Greeley and Wallace. In that area, the aquifer is so shallow that some farmers already don't have enough water pressure left to irrigate.
Farmers were told that if they agreed to a reduction the state would enforce action against those who over-pump. But when a vote of farmers in those counties was held this spring, the water reduction proposal won a simple majority, but not the two-thirds majority that the farmers decided it needed to pass.
Now farmers who want to conserve are planning more meetings, possibly redrawing boundaries of LEMAs and considering another vote, possibly next year, said Greg Graff, president of the area's groundwater management district.
"I didn't feel like it failed," Graff said. "It passed by a slim measure. It was a beginning."
Last year a Kansas State University study said if everything remains the same, the aquifer will be 70 percent depleted by 2060. But the study said the aquifer could last another 100 years if all farmers were to cut 20 percent of their usage.
Gov. Sam Brownback has issued a "call for action" and asked his administration to develop a 50-year vision of the future of water in Kansas. Agriculture officials have been traveling western Kansas to help educate farmers about water conservation and share the draft vision plan.
"Their comments have been everything from 20 percent reduction, to that is too little, to 50 years is too late, to we need to do something right now, and leave us alone we are just fine," said Lane Letourneau, whose job as project manager for the Kansas Department of Agriculture is to allocate water from the aquifer and to protect private-property rights.
While laws on the books could be used to force farmers to limit water, officials have been reluctant to take that path, even though they know farmers have overused water.
"It is heavy-handed," Letourneau said.
In five years, no farmer has had his water rights revoked because of the Ogallala's diminishing water levels, the Journal-World found through an open records request.