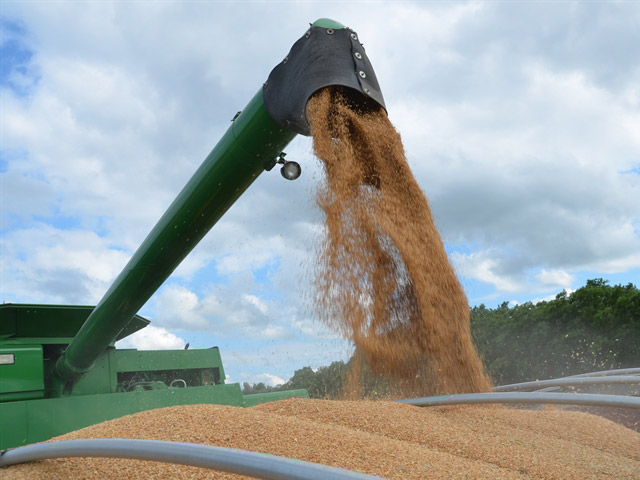 Not even a $100 million credit line could entice the world's biggest wheat buyer to purchase U.S. supplies.
Egypt, which got the U.S. loan agreement, canceled a tender to buy American wheat Wednesday because the prices were too expensive and then asked for offers from other international suppliers. The failed sale shows how unattractive U.S. grain is to buyers with the dollar near the highest level in more than a decade and ample global inventories.
Buyers are instead choosing European wheat as the weakening currency and cheap shipping costs make grain from France and Romania more competitive. Wheat from the region to North Africa costs about $50 a metric ton less than U.S. supplies, based on data from the International Grains Council that includes freight charges as of Feb. 10.
"U.S. wheat is really too expensive compared to what Egypt can buy in Europe," Manon Leygue, analyst at ODA U.K., a unit of French farm adviser Offre et Demande Agricole, said by phone from Bartlow, England. "French wheat will be easier to buy from Egypt, because in France there is still a big amount to export."
U.S. wheat futures fell 21 percent since Dec. 18. Futures were little changed at $5.23 a bushel at 7:29 a.m. on the Chicago Board of Trade. Milling wheat in Paris added 0.5 percent to 188.50 euros ($214.46) a ton on Euronext.
Wheat Shipments
U.S. exporters have sold 20.7 million tons of wheat since the marketing year began June 1, 24 percent less than the same time last season, according to data from the U.S. Department of Agriculture. Japan and Mexico have been the biggest buyers.
Export commitments to Egypt, which include private sales done outside the state-run General Authority for Supply Commodities, stand at 96,300 tons, down from 223,100 tons at this time last year. The country hasn't purchased any U.S. wheat though its state-run tender system in the past five months.
The U.S. grain prices offered Wednesday by companies including Cargill Inc. and Bunge Ltd. were "much higher than world prices," said Mamdouh Abdel Fattah, vice chairman of GASC.
After rejecting the tender, GASC said it would hold another bid seeking at least 60,000 tons of wheat for shipment between March 15 and 25. It received offers of supplies from France, Romania, Ukraine and the U.S., according to two traders involved who asked not to be identified because they're not authorized to speak to media. The U.S. wheat from Louis Dreyfus and InVivo was the most expensive, the trader offers showed.
France, Romania
There's no time limit for the $100 million credit line from the U.S. to buy American wheat, Supply Minister Khalid Hanafy said earlier this month.
France has been the biggest supplier to GASC tenders in recent months, with sales to Egypt of 840,000 tons since December, according to data compiled by Bloomberg. Romania sold 300,000 tons in that time, while Russia and Ukraine provided smaller quantities
With European prices so cheap, shipments are surging. The EU issued export licenses for 1.67 million tons of wheat in the week through Feb. 3, the highest in data going back to July 2004. The total fell to 626,032 tons in the following week.
"We see very high export figures over the last few weeks," Klaus Lutz, the chief executive officer of Munich-based trader BayWa AG, said by e-mail. "There is a very positive situation in the international grain market for EU exports."
Russia, the world's fourth-biggest wheat exporter, has clamped down on overseas wheat sales as the country struggles with a looming recession and food inflation accelerating at the fastest pace in six years. The country started taxing wheat exports this month and shipments plunged 97 percent in the seven days to Feb. 11, compared with the previous week, as the charges began to take effect.
"Buyers are going to be a little bit reluctant to go to the Black Sea region and the U.S. is not really price competitive," Amy Reynolds, a senior economist at the IGC in London, said by phone Friday. "The EU at the moment is certainly the origin of choice."