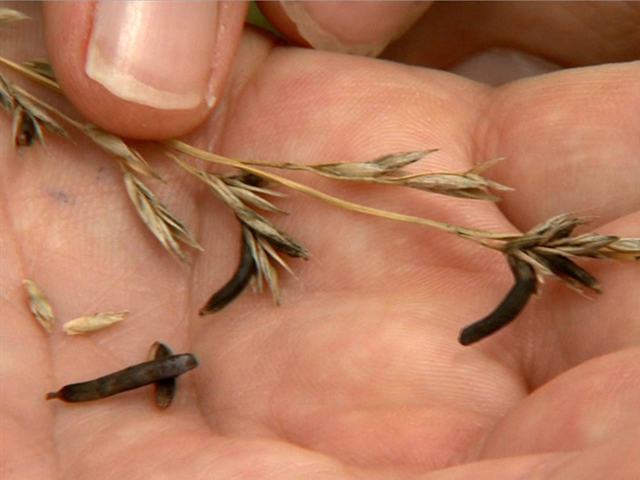 Egypt, which rejected several wheat cargoes this year for fungus contamination, is set to instruct officials to follow international standards that permit a small amount of the fungus known as ergot in imports.
The Cabinet on Tuesday backed allowing shipments containing 0.05 percent ergot and Agriculture Ministry spokesman Eid Hawash said an official decree ordering the quarantine office to accept that level may be issued Wednesday. A United Nations Food & Agriculture Organization report for Egypt showed that much ergot doesn't affect health or crops, according to the Supply Ministry.
The clarification is important because Egypt, the world's top wheat buyer, has been hamstrung this year by a debate over whether to allow cargoes containing a tiny amount of the naturally occurring fungus. Earlier this year, the country turned away vessels of Canadian and Polish wheat because of traces of ergot, which can be toxic to humans in high amounts.
"We're awaiting a written decree from the Cabinet that stipulates changing the standards to 0.05 percent," Hawash said by phone today. "We're expecting it to arrive anytime. Once it's issued, then it's over, the issue is over."
Conflicting Rules
The confusion started earlier this year when different parts of the government gave opposing statements on their standards for wheat quality. Quarantine officials, who are part of the Agriculture Ministry, said they had a zero-tolerance policy for ergot. The Supply Ministry, which runs Egypt's international wheat tenders, has allowed 0.05 percent of the fungus since 2010.
The rejection of cargoes and confusion over what's allowed led many traders to withdraw their offers or charge higher prices for wheat. The country buys massive amounts of grain every year to provide subsidized bread for citizens.
"Bread in general is a very important aspect of daily life in North Africa, so it's not unusual for the political pressure to come from the highest levels," Amy Reynolds, a senior economist at the International Grains Council in London, said Tuesday. She said uncertainty would persist until Egypt clarifies what it will accept.
Ministers of supply, agriculture, trade and health yesterday met with Prime Minister Sherif Ismail to discuss the wheat policy. He has asked the agriculture and health ministries to work on a joint study detailing scientific evidence that backs up allowing grain with 0.05 percent ergot, according to a statement.
While purchases slowed earlier this year during the standoff with traders, they picked up before the start of Egypt's domestic harvest in April. Purchases from local farmers this season reached 5 million metric tons, more than the government's original target of 4 million tons. Buying may accelerate again after the new international marketing year starts July 1.