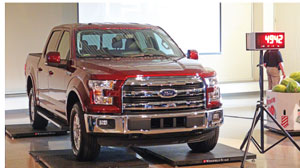 By Kent Sundling
Ford's 2015 trucks pull out more performance
Competition in the truck sector is alive and well. More horsepower and torque means farmers can haul more hay and cattle per load—of course you have to buy a bigger trailer, though. 

It's a big year for Ford trucks. The all-new 2015 F-150 will hit dealer lots around Thanksgiving. Under the new aluminum skin, the F-150 has two new engines: the 2.7-liter EcoBoost V6 and the 3.5-liter V6 Ti-VCT. While shedding more than 700 lb., even with the same displacement engine as the midsize Toyota Tacoma, the F-150 with the 2.7-liter V6 is rated to tow 8,500 lb. 

The twin turbo 2.7-liter V6 EcoBoost with 325 hp and 375 lb.-ft. of torque, sports auto start-stop technology—shutting off the engine when you stop and starting again when you let off the brake. It's the first gas engine from Ford to use a compacted graphite iron cylinder block, as used in Ford's 6.7-liter Power Stroke diesel engine. The other two engine options in the 2015 F-150 are the famous 3.5-liter V6 EcoBoost the 5.0-liter V8.  

Beefed up big boys. In the Super Duty lineup, there are two engine choices: a 6.2-liter V8 gas or a 6.7-liter V8 Power Stroke diesel. 

Finally, the 6.7-liter has an exhaust brake that works, slowing down a truck with maximum load on steep downhill  grades. With the push of a button, the exhaust brake inside the turbo is activated. On previous models, dating back to 2011, it was automatic in tow mode.

Drive the 2015 second-generation Power Stroke diesel F-250, F-350 or F-450 with a larger turbo and a dedicated exhaust brake button, and it's night and day. New injector tips and larger turbo give the Power Stroke more power with an additional 40 hp (up to 440 hp) and 60 lb.-ft. torque (up to 860 lb.-ft.). The 6.7-liter Power Stroke transmission's torque converter has a higher stall speed that improves throttle response. This puts Ford above GMC and Ram in the power category. 

The 2013 Ram HD 3500 4x2 regular cab used to pull ahead of everyone, towing almost 30,000 lb. Now the 2015 Ford F-450 crew cab 4x4 can tow 31,200 lb., even though both trucks are rated at 14,000 lb. gross vehicle weight. 

For higher tow ratings, the F-450 has commercial-grade 19.5" wheels and tires (as they did from 2008 to 2010), upgraded rear U-joints with new leaf springs, Dana 130 rear axle, front and rear stabilizer bars and shocks. The steering system has stronger gears and linkages, and the fifth-wheel/gooseneck has more towing capacity. 

The 2015 F-450 fifth wheel/gooseneck hitch prep package comes with a 25⁄16" ball and 3" ball for 30,000 lb. or heavier trailers. Larger safety chain tie- downs are also new. The brakes, shared with Super Duty chassis cab models, are larger with new antilock calibration.

The F-350 Super Duty is available with a high-capacity towing package that includes new front springs and a wide track axle like Ford offered before 2011. Towing capacity is up to 26,700 lb. from 23,200 lb., and the gross combined weight rating goes up to 35,000 lb.
---
You can join our $100 Ideas Club!