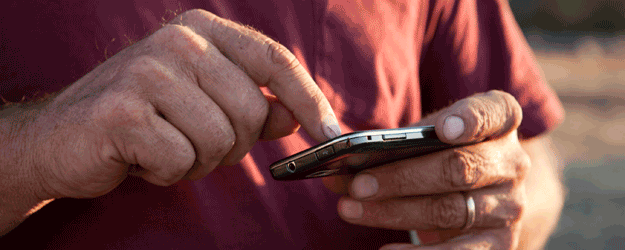 From tire inflation to cash rent calculations, there's an app for that
As the combines roll, there's another machine that can boost efficiency now and all winter long—your smartphone or tablet.

Here are a few ideas to turn these mobile devices into handy helpers any time of the year.
Several apps help track machinery inventory and performance. TractorPal, for example, allows users to track each machine's serial number, model year, purchase date, price and original miles or hours as well as schedule maintenance reminders.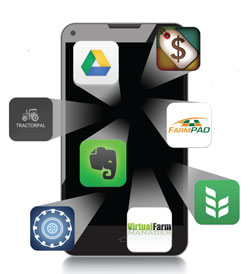 "I looked back on how the farmers I know record inventory and main­tenance records," says Keith King, TractorPal creator. "A lot of them still keep these records in a notebook. When I searched apps that could modernize the process, there wasn't anything like what I wanted, so Erik Schlimmer and I created TractorPal."

Other apps, such as Tire Manager from Goodyear Farm Tires, helps farmers ensure their radial tires are optimally inflated from the word "go."

"Proper inflation pressure is undoubtedly the best way to prolong tire life and increase tire performance. Using the Tire Manager app is the easiest way to ensure you're doing so without the need to carry around databooks and load/inflation tables," says Scott Sloan, agricultural product manager for Titan and Goodyear Farm Tires.
Smartphones pack nearly as much performance as a computer, which benefits organization. In fact, if your computer is more than four or five years old, chances are your brand-new smartphone outperforms it.

Organizational apps are one of the best ways to tap into that pocket-sized computing power. Evernote is an 
industry favorite. Montana Stockgrowers communications manager Ryan Goodman finds it indispensable.

"It's my best friend when taking notes, keeping them organized and being able to find them later," he says. "When I'm in the field, with no service, I can still take text, audio and photo notes, save them, and my phone synchs once I return to cell service. Then when I get to my desktop, all my notes are waiting on me."

Tech-savvy California dairyman Dino Giacomazzi says he uses the Google Drive app at such a high level it could probably replace his Microsoft Office Suite.

"Ninety-nine percent of what a farmer needs to do on a computer could be done on Drive," he says.

That includes scanning and storing documents, creating task lists, sharing files and much more.

"It's the single most useful piece of consumer technology for farmers," he says. "This is the one thing you should check out."
Apps offer a convenient way to manage grain inventory and crunch numbers. For example, during harvest, FarmLogs users can track their harvest activities, manage inventory, forecast and measure profits, and track grain markets. After harvest, they can use the app to manage sales and find optimal locations to sell grain; the app can search for the closest places with the best prices.

Need to re-evaluate and renegotiate cash rents for 2015? There's an app for that, too. The Land Lease Calculator from the University of Nebraska–Lincoln debuted earlier this year and 
allows users to calculate rates straight from their mobile device.

You could even buy your next piece of farm equipment from your smartphone, thanks to mobile apps such as TractorHouse. Sort through thousands of listings to find the exact make and model you want. The app also displays results by location so you can find the equipment nearest you.
To cut through the clutter and proceed directly to the
helpful farm apps found in the AgWeb App Finder, visit http://www.agwebappfinder.com