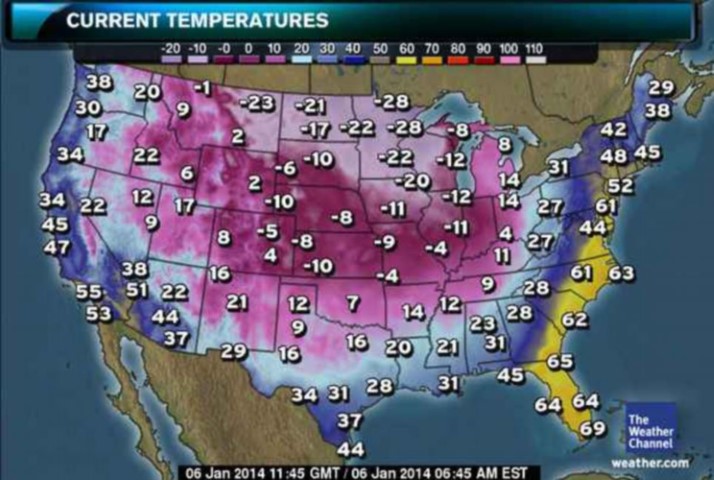 January brought a new phrase to the nation's vocabulary – "polar vortex." A new study from the journal Nature Communications suggests the U.S. may want to brace itself for numerous encores.
The polar vortex always exists, but it is just typically "penned in" the Arctic. From time to time, it escapes this confinement and wanders south, dragging the frigid Arctic air with it. This most recent study validates what President Obama's Science and Technology Advisor, Dr. John Holdren, suggested back in January that these "escapes" will become more frequent.
In the video below, Hodren explains more about the polar vortex and why we may expect to see more of them.
The study from Nature Communications investigated a correlation between low sea ice levels in the Barents and Kara seas near Russia to polar vortex incidences. The researchers concluded that the ice keeps heat energy from escaping into the atmosphere. When this happens, it can weaken the jet stream and allow the polar vortex to dip southward.
Some weather analysts, including AccuWeather lead long-range forecaster Paul Pastelok, says the polar vortex could next return to the U.S. in a matter of weeks.
"The vortex could slip at times, maybe even briefly in September for the Northeast," he says. "There could be a significant shot of chilly air that comes across the Great Lakes region and into the interior Northeast sometime in mid- to late-September."
Not everyone agrees. Kevin Trenbert, climate analysis chief at the National Center for Atmospheric Research in Boulder, tells the AP he's skeptical of the study's findings. He says the Pacific, not the Arctic, should be the focus of study in regards to jet stream changes and polar vortex behavior.
There's not a firm consensus on winter weather predictions in general, either. Some a predicting a brutish repeat of the 2013-14 winter, while others say prepare for more "average winter conditions. As usual, "only time will tell" when it comes to long-range weather prediction.