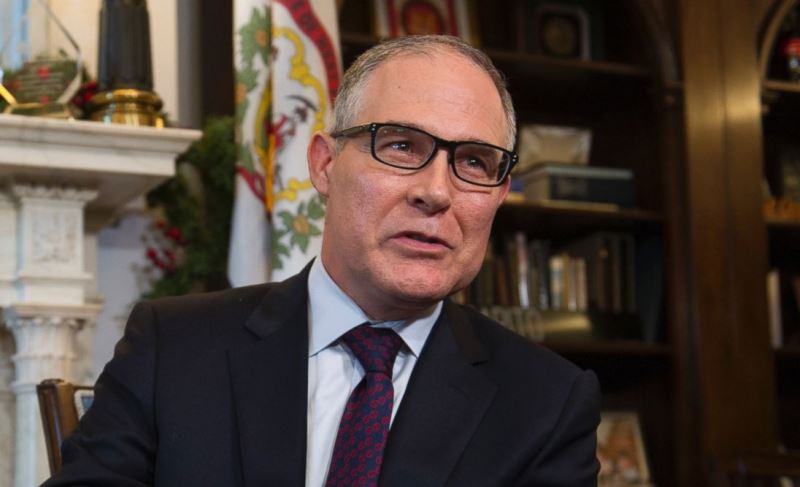 Environmental Protection Agency head Scott Pruitt said he doesn't believe carbon dioxide is a primary contributor to climate change, casting doubt on his willingness to have the agency address the phenomenon.
"Measuring with precision human activity on the climate is something very challenging to do, and there's tremendous disagreement about the degree of impact," Pruitt said on CNBC's "Squawk Box" on Thursday. "So no, I would not agree it's a primary contributor to the global warming that we see."
Pruitt, who was sworn in last month to lead the Environmental Protection Agency, said during his confirmation hearing that humans were responsible for global warming, but said he wasn't sure how much. His comments Thursday, delivered ahead of an address to the CERAWeek energy conference in Houston, went further to discount the role of people. 
They also buck the conclusions of climate scientists, who have attributed a string of record hot temperatures to heat-trapping greenhouse gases. Last year was the hottest on record, the third consecutive record year, according to the National Oceanic and Atmospheric Administration.
Pruitt said more debate and analysis is needed on the issue.
His comments drew a swift rebuke from critics in Congress.
"I would suggest that Mr. Pruitt has very little understanding of what climate change is about and that his views are in direct opposition to what the overwhelming majority of scientists believe in this case and that really is sad given the fact is he is the administrator of the EPA," Senator Bernie Sanders, a Vermont independent and a candidate for the Democratic presidential nomination last year, said in an interview.
In his prior role as Oklahoma attorney general, Pruitt joined a lawsuit challenging the EPA's conclusion that greenhouse gas emissions posed a risk to human health and welfare.
"It's why we should have never confirmed him. It's why he is unqualified to do that job," said Senator Brian Schatz, a Hawaii Democrat who has been active on climate change and vigorously opposed Pruitt's nomination. "He held it together for one hearing, but he is a climate denier there is no doubt about it."
Pruitt has already described plans to roll back a suite of Obama-era environmental rules, including the Clean Power Plan that forces states to slash greenhouse gas emissions from generating electricity. He also is targeting regulations governing potent methane emissions from oil and gas wells.
In his CNBC interview Thursday, Pruitt also criticized the "process" behind the EPA's January decision to uphold rules to slash vehicle greenhouse gas emissions through 2025, a controversial move automakers say was rushed through by the Obama administration. 
He said the agency will take action on the vehicle standards "very soon" without offering specifics. People familiar with the situation have said the agency is planning to reopen the midterm evaluation of the emissions rules, which aim to boost fuel economy to more than 50 miles per gallon by 2025 from around 36 today.
"His comments are an embarrassment and will not be forgotten by those who oppose his efforts to dismantle the agency," Liz Purchia, who served as an acting associate administrator in the agency during the Obama administration, said in an email. "As his comments show, he apparently hasn't listened to the scientists who work for him at EPA."