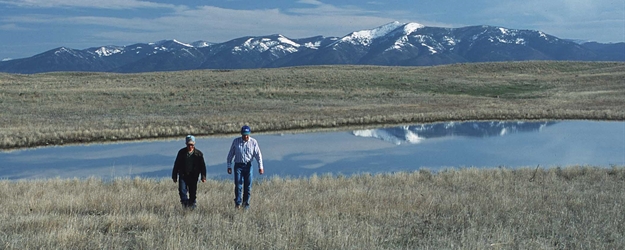 John Barrett is a Texas farmer and environmental steward. He cares for his land so that it's here for generations to come. Now he fears removing the word "navigable" out of the Clean Water Act could prohibit him from doing his job.
American Farm Bureau recently launched a campaign called "Ditch the Rule." The goal is to prevent EPA from implementing what the group fears is too much overreach with proposed changes to the Clean Water Act.
Watch the full AgDay report:
"The removal of that one word—navigable—puts every ditch that connects to a navigable water of the United States subject to EPA and Army Corps of Engineers regulation," says Barrett, who farms in San Patricio County.
EPA says a lot of these fears are simply assumptions, and the agency is now clearing up the muddy waters by cutting through confusion. EPA Administrator Gina McCarthy told reporters on Tuesday this isn't true. With so much confusion about what the proposed changes would mean, she says she wants these false assumptions to be cleared up soon.
"The bottom line is with this proposal, if you weren't supposed to get a permit before, you don't need to get one now," she says. "That is the reality and that is what we need to talk about."
McCarthy is setting out on a Midwest farm tour this week, hearing farmers' and ranchers' concerns. She says Waters of the U.S., or WOTUS, isn't about restricting farmers; it's about protecting downstream water quality for everyone. And at the same time, ensuring that doesn't get in the way of allowing farmers to farm.
"And while there are some legitimate concerns with the rule, and ones we teed up ourselves with the rule to try and seek comment, we're hearing some concerns that really are, to put frankly, ludicrous," says McCarthy.
One concern Barrett has is with his ditches. He says after a heavy rain, water will sometimes top his creek bank, overflowing into a river. He fears under the proposed changes, the ditch would then be considered a Water of the U.S. and he couldn't touch it without permission from the EPA.
"We've been farming this water way behind me for many, many years," he says. "We have had no water quality problems. And they don't need to start calling it a water of the U.S., because it's not."
McCarthy says the assumption that all ditches would fall under EPA jurisdiction is false.
"For the first time ever, we're making it clear that we don't regulate all ditches," she says. "Again, we're just looking at what science tells us can have a significant impact on downstream water quality."
She says unlike what some in agriculture are saying, EPA isn't trying to control every body of water on farms.
"All normal farming practices are exempt, period," McCarthy explains. "We don't shrink current exemptions. We actually expand them."

For Barrett, however, it comes down to government overreach.
"The real issue is the EPA and the Corps are trying to expand their reach over row-crop farmers that grow grain and cotton and corn and whatever," he says. "The ruling doesn't have anything to do with pollution. It has to do with a regulatory power grab."