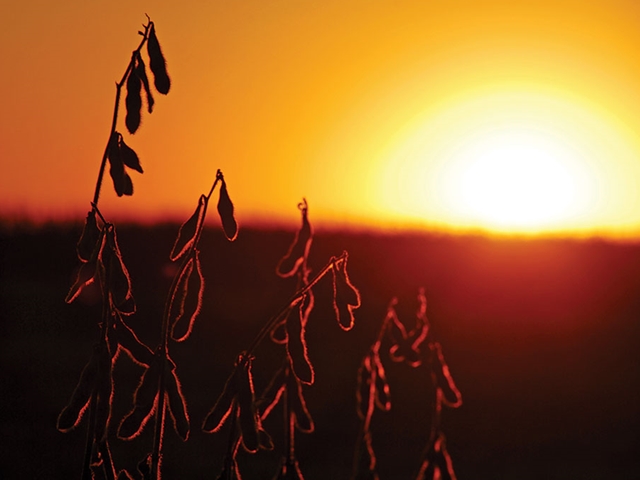 For 2018, USDA predicts corn and soybean acres will match—with 90 million acres dedicated to each crop, as shared this morning by USDA Chief Economist Robert Johansson.
"For corn and soybeans, current price expectations and rotational constraints again push the combined area to 180 million acres, evenly split between the two crops,"  says Johansson, who spoke at USDA's 2018 Agricultural Outlook Forum in Arlington, Va.
To round out the top crops, USDA forecasts 46.5 million acres of wheat, 13.3 million acres of cotton and 2.9 million acres of rice to be planted this year.
"We expect that the continued expansion of trade in soybeans will continue to put pressure on corn but more likely other crop area in the future," Johansson says. "Our latest long-term projections show soybean acres will match or exceed corn acres for much of the next decade."
This year's season-average price for corn is forecast at $3.40, up 3% from 2017. The season-average price for soybeans in 2018 is forecast at $9.25, a 0.5% drop from 2017.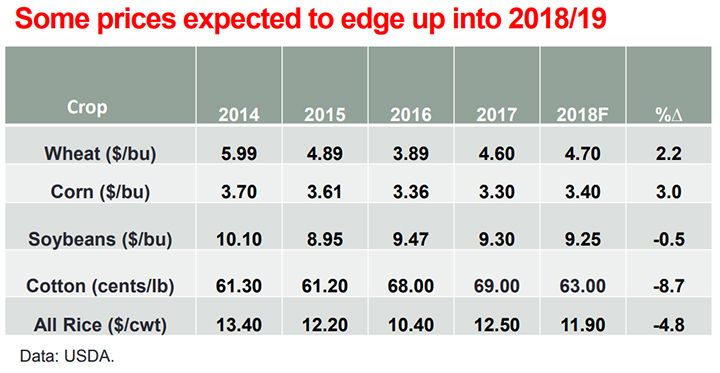 In 2017, U.S. corn growers planted 90.4 million acres of corn and produced 14.6 billion bushels, down 4% from 2016. Corn yields were a record-high 176.6 bu. per acre, 2 bu. above the previous year's average yield. Area harvested, at 82.7 million acres, is down 5% from 2016.
For soybeans, 2017 acres were a record-high 90.2 million and production was a record 4.39 billion bushels, up 2% from 2016. The average national soybean yield was 49.1 bu. per acre, 2.9 bu. below 2016's record yield. Harvested area in 2017 was a record 89.5 million acres, up 8% from 2016.
Wheat acres are expected to reverse a 4-year trend and expand in 2018. Although winter wheat seedings for this year were essentially flat, current price strength in spring wheat suggests we could get some expanded area in the Northern Plains, Johansson says.
Other highlights from Johansson's report include:
Total meat and milk production will reach record highs in 2018.
Strong global GDP and a weak dollar maintain exports this year.
Net farm income is forecast down and projected to fall in real terms.
For real-time coverage of USDA's Ag Outlook Forum, follow Top Producer's Sara Schafer on Twitter.