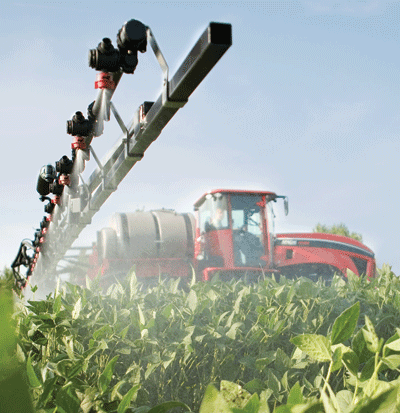 The 2001 AS720, AS1020 and AS1220 Apache sprayers now feature an all-new cab, chassis and product fill options, and an improved powertrain.
The machines are outfitted with a four-point mounted cab with improved visibility and larger floor plate. The all-new, custom cab features a 12% increase in overall floor space. The new Apaches feature a rear-hinged door and larger catwalk. With the engine and exhaust moved farther from the operator, the in-cab noise has been reduced 9%.  HVAC adjustments have been placed in the steering column and the electronics are CAN-ready.
The new sprayers also feature chassis and product tank options. Owners can choose between a 120" fixed axle or an adjustable axle for widths between 120" and 160". The 2011 Apaches feature better illumination in- and outside the cab with a 22% increase in the number of bulbs, and all exterior lights except the hood lights are adjustable and are dual-beam Hella bulbs.
Moving away from a tank skid, a custom roto-mold tank has been introduced on these machines and it's coutoured to the chassis. The new and improved fill station features a more intuitive layout and an LED lighting system. And the rinse tank now totals 100 gal.

Equipment Technologies can factory install the following precision options from Raven: SmarTrax auto-steering, the SCS 5000 application rate controller, the EnvizioPro or ViperPro field computer and the AutoBoom and AccuBoom boom controls.
While the AS720 and AS1020 models with 42" crop clearance can still be purchased with an ITL/JCB transmission, the AS1020 and AS1220 are introduced with the ZF transmission that feature a lock-up torque converter. Another benefit of the Apache's reengineered drive train is an increase in fuel economy of an estimated 9.3% on the AS1020 and 17.4% on the AS1220 at spraying speeds of 12 to 16 miles per hour.
For more: Equipment Technologies