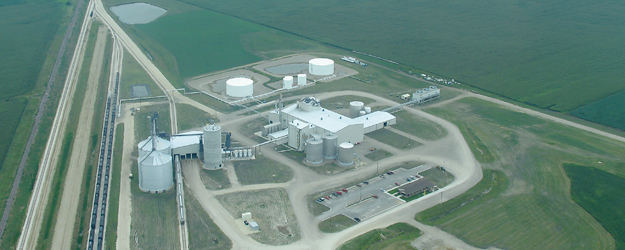 Last year was a banner year for the high-flying ethanol industry. A record 13.94 billion gallons were produced, with a record-setting 1.2 billion gallons of exports. "We're coming off a fantastic year," said Geoff Cooper, vice president of research for the Renewable Fuels Association.
The outlook for 2012: Not so good. Industry estimates are calling for 13.3 to 13.8 gallons of ethanol to be produced this year, meaning a reduction in corn demand. Ethanol plants now are running at 87% capacity compared to 95% the end of 2011. It's not only ethanol plants, however, with production cutbacks at oil refineries, too.
Production cutbacks are being caused by a glut of ethanol supplies this spring, dwindling profits, and a cutback in exports. "The industry over produced in the fourth quarter of 2011, producing an overhang in the market," Cooper said at the Iowa Farm Bureau Federation Economic Summit.
Furthermore, "in January, gasoline demand fell like a rock," and crude oil prices fell. This all adds up to less ethanol demand, despite the Renewable Fuels Standard.
These factors, plus high cost feedstocks, due to the drought-driven rise in corn prices, are combining to hurt ethanol plant profitability. Cooper forecasts poor ethanol plant margins for the entire year of 2012. Just the decline in gasoline consumption alone has cost the ethanol industry 2 billion gallons of potential market.
Some plants have cut back on production while others have temporarily idled. Plant economics are slightly above to slightly below breakeven. What is helping plants, however, is that many are producing corn oil, which is adding 5 to 7 cents per gallon of revenue. For many plants, that's the difference between profit and loss, Cooper says.
The drought is potentially hurting ethanol plants in another way besides the high cost of the main feedstock. A major co-product of ethanol plants is distiller dried grains (DDGs), and the industry is concerned about whether the extreme drought will produce a corn crop with a high level of aflatoxins that could make their way into DDGs.
Despite challenges in 2012, the industry will have no trouble meeting the RFS mandate, Cooper says. He adds that the industry will face a tough profitability picture for the next 12 to 18 months, with some plants remaining idle and there will likely be some industry consolidation. "This will be the first time since 2006 with no growth in production," Cooper says.
Still, he remains optimistic on the industry long term as ethanol remains such an excellent octane booster and ethanol plants have made major strides in improving efficiencies. Moreover, the approval of E15 is creating a market for additional ethanol.
---